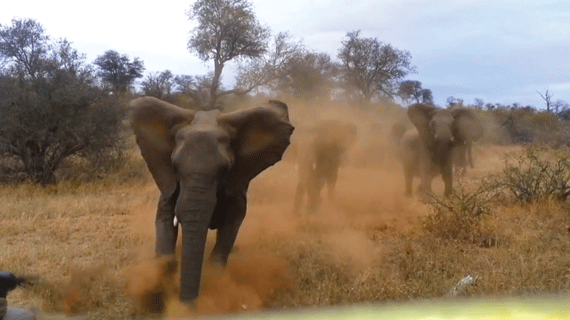 MARAUDING elephants have destroyed crops in Beitbridge district leaving villagers facing hunger despite a promising rain season, a government official has said. Richard Muponde Senior Reporter
The elephants reportedly destroyed crops with villagers powerless to stop them after the Parks and Wildlife Authority of Zimbabwe (Zimparks) failed to intervene.
Beitbridge district's Civil Protection Unit acting chairperson Peter Moyo said the elephants had ravaged the whole district and farmers were left counting their losses.
"They have destroyed nearly everything and farmers will harvest very little," he said.
"The jumbos move in several herds with each herd having up to 100 elephants.
"They have caused a lot of damage leaving communal farmers hopeless. The other problem is that they there was no one to control them.
"The Campfire people would want villagers to call them when the elephants are in the fields and also want the villagers to identify for them, the elephant leading the herd."
Moyo said the elephants had invaded some areas which previously had not been affected by attacks by the jumbos.
"They have come in alarming numbers.
"There are some places which have never experienced the presence of elephants in their lifetime, this time they were also destroyed," he said.
"It's really a big problem for the district." Previously elephants were known to cause problems to farmers in irrigation schemes such as Tshikwalakwala, Shashane and Tshamaswiswi.
The herds of elephants which stray from Kruger National Park in neighbouring South Africa have perennially destroyed crops and canals in these irrigation schemes.
However, there were few reported cases of widespread invasion of fields across Beitbridge compared to this season.
Two weeks ago, Binga villagers complained that they faced hunger after elephants strayed from the nearby Chizarira National Park and destroyed crops in several wards leaving fields resembling plains.
The villagers were looking forward to a good harvest following the rains, but all their hopes were dampened by the marauding jumbos. Reports say the jumbos destroyed fields in more than 10 wards leaving villagers with nothing to harvest.