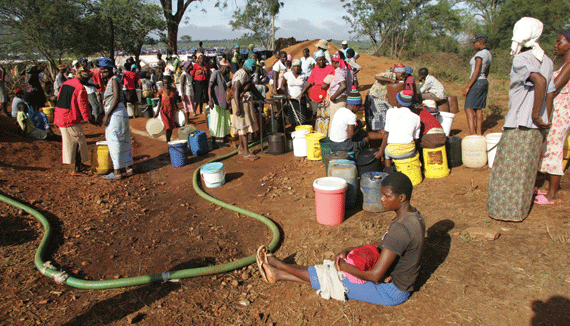 THE Bulawayo City Council has offered assistance to Tokwe-Mukosi flood victims in Masvingo, but seemed to complain that no government arm came to its rescue when Manningdale Dam spilled and flooded several houses in the city earlier this year.
NQOBILE BHEBHE CHIEF REPORTER
Council said the Civil Protection Unit (CPU) failed to assist and the local authority was forced to evacuate more than 100 families in Manningdale suburb when the dam started spilling due to incessant rains.
According to a council report, town clerk Middleton Nyoni had informed the municipality that the Local Government, Public Works and National Housing ministry had requested all local authorities to provide assistance to the Tokwe-Mukosi flood victims.
Nyoni verbally told council that according to communication from the ministry, "it is critical that both urban and rural local authorities mobilise technical and material resources to this cause."
"This may be in the form of trucks and tractors with trailers to assist in the evacuation of the affected people. Timely impetus to this initiative is imperative," the report adds.
President Robert Mugabe declared the Tokwe-Mukosi Dam flooding a national disaster and the government launched an international appeal for $20 million triggering a wave of donations.
However, several councillors questioned the rationale of offering assistance to Tokwe-Mukosi victims when nothing was done for victims of some Bulawayo houses that were flooded as they were built on low lying land.
"Discussion ensued and councillor Silas Chigora enquired whether or not this was a directive from the Local Government, Public Works and National Housing ministry. Did council have the capacity to provide any assistance in view of the cost involved? He recalled that recently in his ward (4) there was a natural disaster due to overflooding of a dam in Manningdale — but the CPU had not assisted here," reads part of the report.
Councillor James Sithole said the local authority "should exercise caution on such issues as the road network in the city was poor due to potholes. Sithole said there were also some affected households in Bulawayo."
"In view of this, there was need for rubble/soil so that local communities can provide free labour for such road repairs," the report said.
Councillor Clayton Zana said the cause of the disaster at Tokwe-Mukosi was due to poor workmanship in the dam construction.
In response, Nyoni said Namibia assisted with three helicopters for airlifting affected local residents.
"With regard to the local disaster at Manningdale, he advised that lack of visible support from the CPU was due to the poor state of preparedness. He confirmed that he had already requested for a dam inventory in Bulawayo so that such data could be used in future when necessary," added the report.
However, council finally resolved to provide two tipper trucks with fuel.