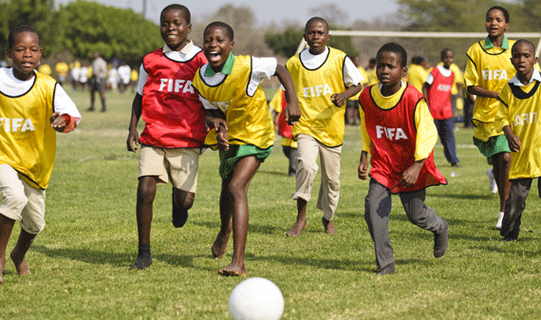 UNITED STATES – For Tommy Clark, soccer wasn't just a part of life — it was life. When he was 14, his family moved from Scotland to Zimbabwe, where his father, a former pro soccer player, coached the national team.
As he played soccer with the locals, Clark learned that their passion for the sport ran even deeper. A village might lack electricity and running water, but it always had a dusty, makeshift soccer field.
After college at Dartmouth — where he played soccer, of course — Clark returned to Zimbabwe to teach English and play on the local pro team. Zimbabwe was still as soccer-obsessed as he had left it; a crowd of children followed him to practice every day. But it had also changed in many ways. Once-bustling city squares now stood deserted. Aids had hit hard, yet no one dared mention it.
Today, 33.4 million people are living with HIV/Aids. Ninety-seven percent of those living with HIV reside in low- and middle-income countries, particularly in sub-Saharan Africa.
When Clark returned to Dartmouth for medical school, the cogs began turning as he remembered the awestruck kids trailing after him. And he knew that other countries were just as crazy about soccer. "Using soccer players, who were heroes in their communities … could potentially break through the deafening silence that surrounded HIV," he said. By chance, he met Stanford University sociologist Albert Banduro, famous for developing the social learning theory, which proposes that kids learn best from role models they admire. It's the same reason kids snatch up Air Jordans and LeBron James kicks.
Building on Banduro's theory, Clark co-founded Grassroot Soccer (GRS) in Bulawayo, Zimbabwe, in 2002. The nonprofit organization trains young adults from the local community to teach a core Skillz curriculum consisting of soccer-based activities that show kids aged 12 to 19 how to avoid contracting and spreading HIV, which causes AIDS. GRS participants "really look up to the coaches," said Sam Mayer, GRS director of business development and strategy.
Since its launch, GRS has spread to South Africa and Zambia, and partnered with organizations in more than 30 countries. And it works. A study published in the British Journal for Sports Medicine found a significant boost in the proportion of correct responses that 370 South African youth gave to a health questionnaire after they finished the program. And in Zambia, 60 percent of GRS graduates get an HIV test, compared with only 13 percent of the general population.
The stigma surrounding HIV and Aids often leads to misinformation and a reluctance to seek testing or treatment, Mayer said. "What better way to help kids feel at ease than participating in a fun activity with their peers? It creates a safe space to broach these issues."
Each of the eight 45-minute Skillz sessions models the spread of HIV and allows kids to practice the skills needed to make positive behavioral changes off the field. In an activity called Risk Field, they dribble a soccer ball between cones representing multiple partners and other HIV-related risks. If they hit a cone, players and their teammates must do three pushups to learn how one person's risk can affect everyone around them.
But GRS's approach applies to more than Aids prevention. In 2011, the organization teamed up with Exxon Mobil to design a soccer-based Aids and malaria prevention program that's now being used in Nigeria, Equatorial Guinea and Tanzania. GRS has also just begun using Skillz to teach financial literacy to program participants and coaches.
"Soccer creates the hook," Mayer said. "Then you have energetic and youthful mentors… and then you can get to any issue. Soccer is really a common denominator around the world."
– Ozy. Com