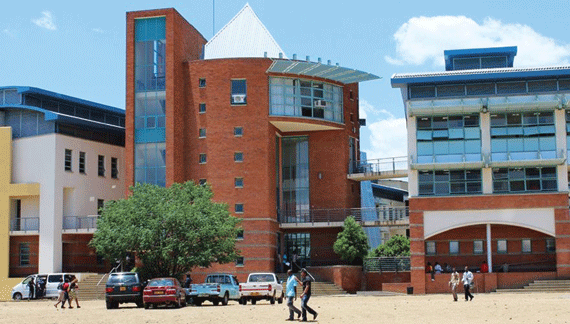 NATIONAL University of Science and Technology (Nust) lecturers yesterday accused the institution of lying that they had resumed teaching part-time and masters students after a three-week protest.
LINDA CHINOBVA OWN CORRESPONDENT
The academic staff at the university stopped teaching evening classes and masters' students, but continued providing services to conventional classes.
Nust director of information and public relations Felix Moyo had told Southern Eye that the protest was over and normalcy had returned to the Bulawayo-based university.
But Nust Educators' Association (Nusteda) came out guns blazing last night saying the strike was far from over.
"It is Nusteda's official position that the suspension of services by lecturers in all part-time programmes is not a go slow or a strike," Nusteda said in a statement.
"It is simply a total suspension of services in reaction to the university management's breach of contracts to the lecturers concerned.
"It should be made clear that lecturers entered contracts with the university management in which they would provide their services and get paid upon fully providing these services.
"For two semesters (second semester of the 2012 to 2013 academic year and first semester of the 2013 to 2014 academic year) these lecturers worked their hearts out during evenings and on weekends and up to now they have not been paid."
Nusteda said lecturers felt that the university was not serious in addressing the problem after they were told the salaries could be paid as late as next year.
"Having had a meeting with management on Friday 28 February 2014 and being told that they might be paid in full in 2015, it is clear that the university's management has breached contracts signed in previous semesters and they are in repudiation of contracts signed in this current semester since they will clearly not be able to pay for services provided once the semester is over," the lecturers said.
"It does not take a rocket scientist to realise that if you are in a contract and one party does not keep their end of the bargain and further indicates that they will not be able to stick to the dictates of a running contract, it is as good as not being in any agreement at all.
"It is for this reason that lecturers, as learned and wise as they are, decided to stop offering their services," Nusteda added. "Management clearly does not prioritise paying them for services they offer.
"Management is in breach of previous contracts, and they are in technical repudiation of the current semester's contracts, so this is not a strike.
"It is not a go slow. It is a total 'cutting off' or 'withdrawal' or 'suspension' of services following the university management's breach and repudiation of contracts. There is nothing illegal about it!"
According to documents seen by Southern Eye, despite the Nust senate ordering deans and chairpersons of departments to ensure lecturers resumed, Nusteda wrote to its members last Thursday advising them to continue with the protest.
Lawyers representing lecturers also wrote to Nust advising the university that its position that the protest is illegal was flawed.