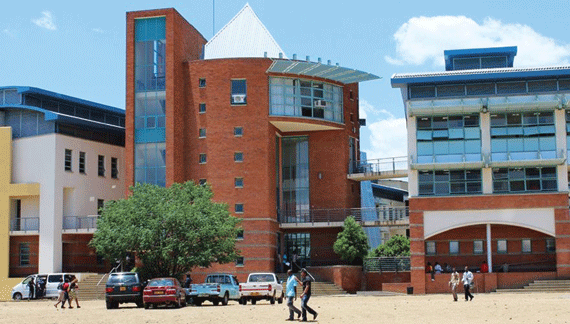 NATIONAL University of Science and Technology (Nust) lecturers have resumed normal work after embarking on a three-week go- slow in protest at the institution's failure to pay them their salaries. LINDA CHINOBVA OWN CORRESPONDENT
The academic staff at Nust had stopped teaching evening classes and masters' students, but continued providing services to conventional classes. Nust director of information and public relations Felix Moyo confirmed the developments at the institution.
"I can confirm that the lecturers at the university have since resumed delivering their services to the parallel students and in line with missed lectures. Each lecturer must do something to cover the missed lectures," Moyo said.
It is believed that the Nust Educators' Association (Nusteda), the body representing the lecturers, was on Tuesday taken to the Labour ministry by the university management in a bid to end the job action.
It is understood the local university is owed about $1,3 million by parallel and masters' students while lecturers are owed over $1 million in outstanding pay.
Nust Students Representative Council (SRC) president Lucky Muza also confirmed that the lectures had resumed work.
"It is true that the situation is under control as the lecturers who had embarked on an illegal go-slow initiative have since resumed their work," he said.
"It is very unfortunate that the students have missed out on their lectures for a very long time and it is very much a set-back to them. We are appealing to the university to settle the debt so that students do not find themselves in such situations."
Muza said the SRC would monitor the lecturers and ensure that students completed their courses despite the setback. However, the disgruntled students who pay more fees than conventional students said they were not happy with Nust and felt robbed as they had not had lectures for close to three weeks.
"We are close to writing exams and the lecturers decide to embark on such a selfish strategy. We have not even completed course outlines, but they decide to abandon us. It is not us who owe them, but the university and seriously we do not expect to be part of their disputes," a student said.
Another student said the strategy had more impact on final-year students as they were in the process of doing academic projects that need close supervision from the lecturers.
"As final year students, we feel we are not being treated fairly as we are in the process of doing our academic projects that need close supervision from our lecturers. This is our last semester and this is how we are treated just when we are about to complete our studies!" a final year student with the university said.