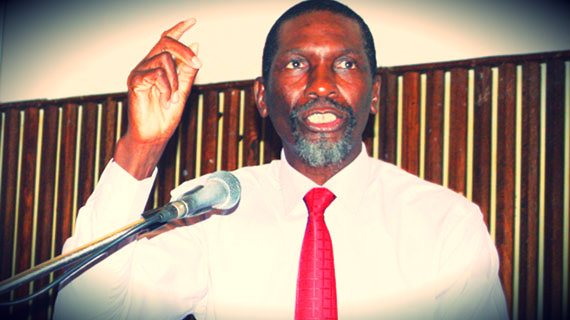 MDC-T leader Morgan Tsvangirai's push to lure the labour-backed movement's founders into his formation suffered a blow yesterday after former National Healing, Reconciliation and Integration co-minister Moses Mzila-Ndlovu distanced himself from reports that he was ready to defect. NQOBILE BHEBHE CHIEF REPORTER
The former MP for Bulilima West Mzila-Ndlovu, now a key member of the Welshman Ncube-led MDC said joining MDC-T would be a betrayal of his beliefs as the party was now more prone to violence than when he left. There had been speculation that Mzila-Ndlovu and several other senior MDC officials were contemplating ditching Ncube for the MDC-T.
This was after the "defection" of ex-Mangwe MP Edward Mkhosi and former Insiza South MP Siyabonga Malandu Ncube, who were unveiled by Tsvangirai during a rally at Stanley Square in Makokoba, Bulawayo, last Saturday.
The MDC-T said more defections from the MDC would be announced in due course. But MDC said Mkhosi and Malandu Ncube had longer ditched the party and the so-called defection was a non-event. Mzila-Ndlovu rubbished reports linking him to Tsvangirai.
"They (MDC-T) should forget about me crossing the floor. The very reasons that caused the 2005 split of the united MDC are now more pronounced and glaring," he said.
"I won't betray my beliefs joining them. I have never entertained that thought. Not a single member of that party; be it a low or high-ranking official has ever dared to approach me with the view of jumping ship. They may try others and not me."
Tsvangirai recently made a passionate appeal to all founding MDC members to join him in the fight to unseat President Robert Mugabe and Zanu PF from power and has so far managed to convince former St Mary's MP Job Sikhala to rejoin his formation. Tsvangirai said all former members should come to his "tent".
Mzila-Ndlovu added: "The MDC-T is structured or operating in a Zanu PF mould.
"It's a party with a firm belief that political or national leadership is only a preserve of people from Mashonaland and that pains me."
Mzila-Ndlovu said there was need for the formation of another political party.
"The three political parties (MDC, MDC-T and Zanu PF) have failed Zimbabweans, especially the Matabeleland region," he said.
"They come here (Matabeleland) with false promises, so a party that will be honest, sincere and genuine in solving issues affecting the region would find currency with the people here. So the political space is open."