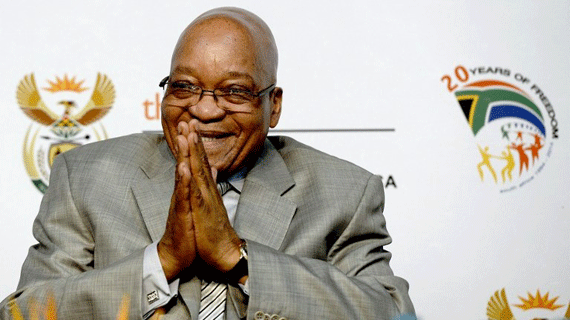 JOHANNESBURG – President Jacob Zuma benefitted "unduly" from a $23 million state-funded security upgrade to his home that included a cattle enclosure and an amphitheatre, South Africa's corruption watchdog said on Wednesday in a damning report six weeks before an election.
Public Protector Thuli Madonsela accused Zuma of conduct "inconsistent with his office" and said he should repay a reasonable part of the unnecessary renovations, which also included a chicken run and a swimming pool that had been justified as "fire-fighting equipment".
The findings were likely to further hurt the image of the scandal-plagued Zuma and his ruling African National Congress (ANC) in May elections, although the former liberation movement that has ruled since the 1994 end of apartheid is still expected to win.
The ANC, which has staunchly supported the president over several previous allegations of corruption, was due to hold a news conference later in the day.
"The President tacitly accepted the implementation of all measures at his residence and has unduly benefitted from the enormous capital investment in the non-security installations at his private residence," Madonsela said in her report.
The 444-page summary of the two-year investigation into the renovations at Zuma's sprawling homestead at Nkandla in rural KwaZulu-Natal province painted a picture of systemic government incompetence and flouting of normal tender procedures.
Madonsela, a soft-spoken lawyer who has become famous in South Africa for exhaustive investigations into government graft, described the cost overruns as "exponential" and said ministers had handled the project in an "appalling manner".
When news of the security upgrade first broke in late 2009 in the media, the cost was estimated at 65 million rand ($6.1 million). However, despite intense public scrutiny, the bill ballooned to 246 million rand ($23 million) as the project and its costs spiraled out of control.
The total spending amounted to eight times the estimated present-day value of securing the home of Nelson Mandela, South Africa's first black president, who died in December aged 95.
"Our president needs to learn to be responsible, so I think it is fair for him to take that responsibility to pay what he did not spend fairly," said Fundzo Mundalalo, an unemployed 21-year-old heading to the taxi rank near Johannesburg's financial district of Sandton.
"NEGATIVE FOR THE ANC"
"This is negative for the ANC," said Nic Borain, an independent political analyst. "They will lose votes as a result of this."
However, some other analysts saw it having little electoral impact because of the blanket publicity the case had already received.
"This is unlikely to seriously shift people's voting habits or make Zuma appear in a new light," said Peter Attard Montalto, an emerging markets analyst at Nomura International.
Madonsela's report, entitled "Secure in Comfort", said public works funds had to be diverted from inner-city regeneration projects to carry out the upgrade on Zuma's home.
It added that at no point did Zuma express misgivings at its scale or opulence even though the construction would have raised the eyebrows of a "reasonable person".
"A substantial amount of public money would have been saved had the president raised his concerns in time," the report said.
It detailed how a swimming pool was justified in official documents as "fire-fighting" equipment, and how Zuma personally requested changes to the design of bullet-proof windows.
It also criticized the placing of a medical clinic and police facilities inside the gated compound, saying they could have been moved outside for the benefit of the public in what is one of the poorest region's of Africa's wealthiest country.
Despite voter concerns about graft and shoddy public services, the ANC is almost certain to win the May 7 election, handing the 71-year-old Zuma another five years at the helm.
The extent of his unpopularity in urban areas was highlighted by the boos that greeted him at a memorial to Nelson Mandela at Johannesburg's Soccer City stadium in December, although he still enjoys huge support in the countryside.
The government had previously gone to court to try to prevent Madonsela releasing her findings on the grounds that they might jeopardize Zuma's security. The challenge was dropped after Madonsela made clear there was no threat.
Zuma, a polygamous Zulu traditionalist, has been beset by scandal throughout his political career. He only became president after corruption charges against him were dropped on a technicality days before the 2009 polls, and while in office fathered a child with the daughter of a close friend. ($1 = 10.7320 South African Rand)
– Reuters