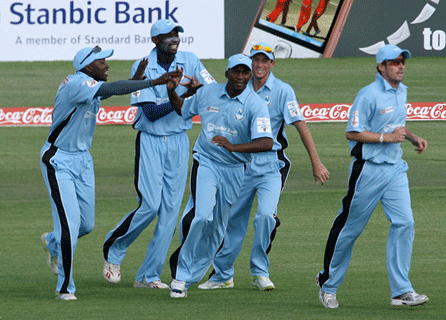 MEDIUM-PACER Tawanda Mupariwa put the finishing touches on a bowler-dominated contest in Bulawayo, taking seven wickets in the final innings — twelve in the match — to bowl Matabeleland Tuskers to a 52-run win against Mashonaland Eagles at Queens Sports Club in Bulawayo yesterday.
SPORTS REPORTER
Chasing a target of 193, what would have been the highest total of the game, Eagles were well placed at 85 for one, before the crash came.
Mupariwa had taken the first wicket, and then he returned to break the 52-run stand between Keith Kondo and Mark Vermeulen. Wickets tumbled thereafter.
Mupariwa finished with seven for 42 as Eagles were bowled out for 140 in 44 overs. They had lost nine wickets for 55 runs. John Nyumbu took two for 19 for Tuskers.
The Tuskers had also struggled with the bat after they won the toss. They were dismissed for 143 in 47,1 overs. Opener Nkosana Mpofu scored 57, but no other batsman got past 25.
Taurai Muzarabani took four for 42 for Eagles, while Nathan Waller and Keith Kulinga took three each.
Eagles fared worse in their first innings and were reduced to 64 for six at stumps.
Sixteen wickets had fallen on the first day. They were dismissed for 82 on the second morning, the entire innings lasting only 34,1 overs.
Only three players made it into double figures, with Tinotenda Mutumbodzi's 26 being the top score. Mupariwa took five for 31 and Steve Chimhamhiwa claimed five for 41 for Tuskers.
Godwill Mamhiyo scored a half-century for Tuskers in their second innings, but his 52 was the only significant contribution.
Brighton Mugochi took five for 32 for Eagles, to dismiss Tuskers for 131 in 61,3 overs.
Tuskers were ahead by 192, though, and that proved more than enough thanks to Mupariwa's efforts.