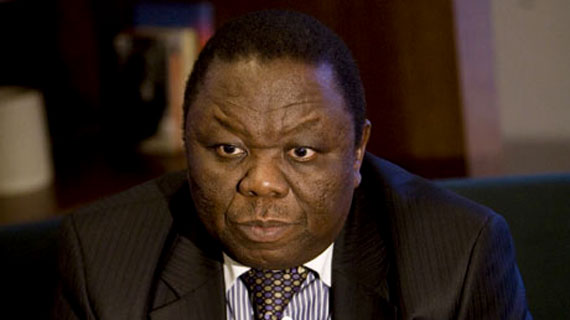 MDC-T leader Morgan Tsvangirai heads to his party's stronghold of Bulawayo on Friday for a rally the next day as he moves to quell a rebellion and maintain his grip at the helm of a party currently hit by a crisis that is threatening to tear it down the middle.
LINDA CHINOBVA/SILAS NKALA
MDC-T spokesperson Douglas Mwonzora said Tsvangirai would arrive in the city on Friday evening, but had no plans to meet party structures as the only problem his leader was seized with at present involved addressing the country's economic crisis.
"The president of MDC-T together with other party members will come down to Bulawayo on Friday for a rally that will be on Saturday," he said.
"The rally seeks to address the issues affecting the citizens and also to come up with solutions that can and will ease the Zimbabwean crisis."
Last Friday, Tsvangirai's national executive committee announced the suspension of party deputy treasurer-general Elton Mangoma for allegedly bringing the MDC-T into disrepute after his incessant calls for leadership renewal to save the party from total collapse.
Secretary-general Tendai Biti (pictured) last week wrote a letter to the party's provincial structures attacking what he termed an ongoing purge of leaders perceived to be opposed to Tsvangirai's continued leadership.
Biti also denounced the use of violence to resolve differences and the stiffling of debate in the MDC-T.
Yesterday, another senior MDC-T official, youth assembly general-secretary Promise Mkhwananzi, who has also fallen out of favour with Tsvangirai's inner circle, spoke publicly for the first time against the disturbances rocking the opposition party.
Writing on his Facebook wall, Mkhwananzi said the MDC-T had continued to fall short of the democratic threshold since the expulsion of one of the founding members, Munyaradzi Gwisai.
Gwisai was expelled in 2002 for allegedly contravening the party's constitution and position by supporting the land reform programme.
Mkhwananzi said the events on March 7 2014 where Mangoma was suspended put the MDC-T's failure glaringly on the public domain.
"Since the expulsion of Gwisai back then, the MDC-T has shown a tendency of intolerance whereby purging has become the default solution to dissenting and even divergent views," said Mkhwananzi.
"Constructive criticism has been and continues to be viewed and treated as rebellion.
"The rules and regulations enunciated by the party's constitution have been tossed into the dustbins of history and the sole will of Tsvangirai and the sycophants that surround him have taken over as the order of the day."
MDC-T has also dimissed the Matabeleland North provincial executive led by Sengezo Tshabangu over suspicions of being anti-Tsvangirai.
Tshabangu's executive was replaced by an interim one led by Thembinkosi Sibindi.
But Biti dismissed the expulsion as null and void saying only a properly constituted national council could effect such decisions.