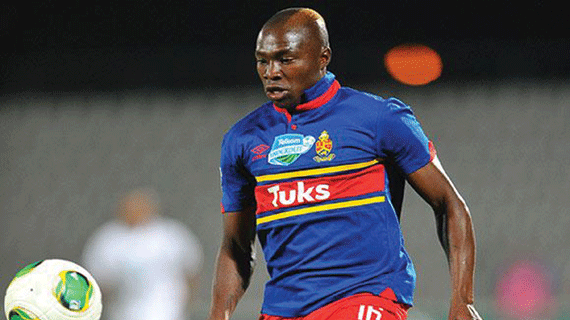 NOMADIC former Highlanders striker Obadiah Tarumbwa is set to return to Zimbabwe to rejoin Bantu Rovers after failing to find his feet at South African Absa Premier Soccer League side University of Pretoria (AmaTuks). FORTUNE MBELE SPORTS REPORTER
Tarumbwa (28) joined AmaTuks from Kenya Premier Soccer League (PSL) outfit Sofapaka in July last year, but has failed to find the net in nine league matches and two cup ties.
Although Bantu Rovers general manager Wilbert Sibanda yesterday denied that Tarumbwa was rejoining the club, an impeccable source said Tshintsha Guluva were running around looking for an apartment for the attacking midfielder and as soon as they have secured him accommodation he would be returning to Zimbabwe, probably on a loan deal.
Sibanda yesterday said he was not going to comment on players that they were registering with the PSL as yet.
"I don't know anything about Oba (Tarumbwa). I am actually hearing it from you. He is one player that we would want. Is he out of contract with University of Pretoria?
"We are not going to comment about the players that we are registering with the PSL yet this year. Are you not getting them from the PSL?" a puzzled Sibanda asked.
However, the source said: "His (Tarumbwa's) papers are done and as soon as his accommodation is secured, he is coming."
Tarumbwa, who also played for the Warriors in 2007, started his top-flight career with Highlanders in 2000 to 2008 when he joined Belgian First Division side Cercle Brugge on a six-months contract and was reunited with former Bosso teammates Vusa Nyoni and Honour Gombami. He returned home in 2009 and played for Bantu Rovers in the PSL before packing his bags to Cyprus where he played for Enosis Neon Paralimni from 2009 to 2011.
Tarumbwa was rumoured to be on his way to join Harare giants Dynamos in 2012 before returning to Cyprus.
In December 2012, Tarumbwa was to travel to Kenya where he signed for Sofapaka and then to South Africa last year.
Efforts to establish how Tarumbwa would be joining Bantu Rovers as he signed a three-year contract with AmaTuks last year, were fruitless.