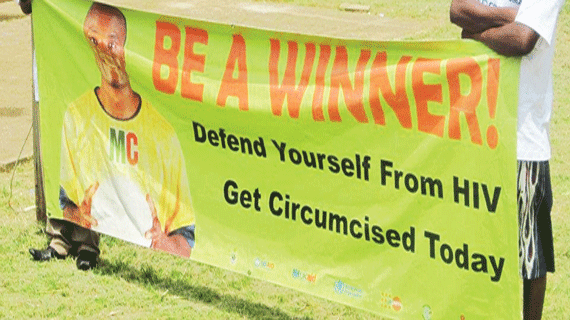 THE Midlands province is targeting about 18 000 men for circumcision this year in a bid to reduce HIV infections, a Population Services International (PSI) official has said.
STEPHEN CHADENGA OWN CORRESPONDENT
Speaking at a provincial National Aids Council HIV and Aids stakeholders' meeting in Gweru, PSI provincial manager Blessing Madondo said the circumcisions should be done by December.
Madondo said PSI would step up circumcisions in the districts to achieve the target.
He revealed that 578 circumcisions were carried out in the province in January alone.
However, Madondo said there was need to step up awareness campaigns to demystify negative notions on the Voluntary Medical Male Circumcision (VMMC) programme.
"There is need to step up community awareness and education to counter misconceptions about the programme,"he said.
He said the biggest deterrent to male circumcision was HIV testing before the process was done adding that there was need for stakeholder participation in championing the programme. The male circumcision programme was launched in 2009 and has only seen 10% of the targeted 1,2 million men being opted. 2015 is the deadline.
Health experts say Zimbabwe could save up to $3 billion in HIV and Aids treatment and downstream costs if the country can scale up its VMMC programme. Studies have shown that the HIV infection rate among circumcised males was 60% lower than in those not circumcised.