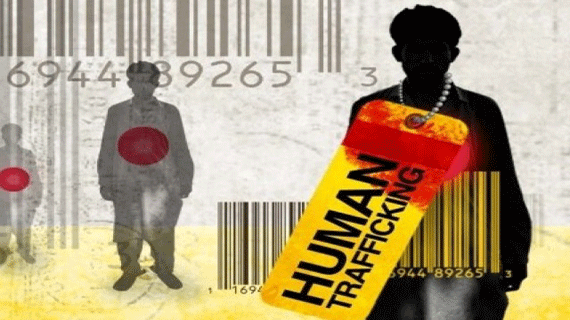 JOHANNESBURG — Since 2009, hundreds and possibly thousands of refugees, most of them Eritrean, have been kidnapped in eastern Sudan and sold to traffickers in Egypt's Sinai Peninsula, where they are held and tortured until their relatives can raise tens of thousands of dollars in ransom money.
According to a report released on 11 February by Human Rights Watch (HRW), security forces in Sudan and Egypt have either turned a blind eye to this violent trade in men, women and children or, in some cases, colluded with the traffickers.
The 79-page report documents the kidnapping and torture of victims, and describes how Sudanese and Egyptian security officers facilitated abductions by traffickers, or failed to take action against them. HRW alleges that at Sudan's eastern border with Eritrea, near the town of Kassala, police and border guards regularly intercept Eritrean refugees and hand them over to traffickers, while security officials allow traffickers and their victims to pass through checkpoints between Sudan and Egypt's Suez Canal.
"When the authorities fail to tackle traffickers or help them, it's not just a criminal law enforcement issue, it becomes a human rights issue," Gerry Simpson, a senior refugee researcher at Human Rights Watch and the report's author said.
"The (Sudanese and Egyptian) states have been wilfully turning a blind eye to massive criminal activity at best and at worst are actively supporting some of it."
The UN Refugee Agency (UNHCR) says 300 000 Eritreans had sought asylum outside their country by the beginning of 2013. The majority left after 2004, fleeing widespread human rights abuses, including mandatory and indefinite military service, arbitrary arrest and detention, and severe restrictions on freedom of expression and movement.
Most leave without the exit permits required by Eritrean law, risking severe punishment if they are caught.
In the last decade, tens of thousands have registered as refugees at camps in eastern Sudan and Ethiopia, but most have quickly moved on in search of better conditions and opportunities.
Between 2006 and 2012, many hired smugglers to help them reach Israel via Egypt's Sinai Peninsula. Around 2009, reports began to surface of smugglers turning on their clients during the journey through Sinai, and holding them in torture camps while they extorted increasingly large sums of money from desperate relatives.
By the end of 2010, Sudanese traffickers were kidnapping Eritreans in or near eastern Sudan's refugee camps and selling them to Egyptian traffickers operating in Sinai.
Most victims said they never intended to go to Egypt or Israel.
A report published in December 2013 by three human rights activists and researchers estimated that between 2009 and 2013, as many as 30 000 people were victims of trafficking and torture in the Sinai Peninsula, and that between 5 000 and 10 000 of them did not survive their ordeal.
Yonathan Habte (28) is among those who survived. He left Eritrea in March 2012 and was kidnapped from Shagarab refugee camp near Kassala a few weeks later. He had been warned about the threat of kidnappers in eastern Sudan but thought he would be safe in the camp. In fact, by 2012 UNHCR was recording about 30 kidnappings a week in and around eastern Sudan's refugee camps.
Habte spoke on how he had been collecting firewood one morning when three vehicles entered the camp and he and two other men were grabbed.
His kidnappers took him and 30 other Eritreans to Egypt, where they were divided between several traffickers operating torture camps near the Israeli border.
"They made us call home to our families two or three times a day, and every time they beat us up so our families heard us screaming," he said.
After his family had paid a ransom of $3 500, Habte was sold to another trafficker, who demanded $30 000 for his release. At the second camp, the torture intensified. Habte and 12 other hostages, including three women, one of whom was pregnant, were beaten constantly and hung up by their ankles or wrists for hours at a time. While on the phone to their friends and relatives, molten plastic was dripped on their skin so their screams would ensure the ransom money was paid as quickly as possible.
Meron Estefanos, an Eritrean journalist and activist living in Stockholm, Sweden, has been listening to the screams of Eritrean refugees held hostage in Sudan and Egypt for three years. During a weekly radio programme she takes calls from the refugees and their relatives, and broadcasts these to listeners. In 2012, she received a phone call from her cousin, who had been kidnapped near Kassala and taken into Sinai. Her captors were demanding $37 000 for her release.
"If you're listening to your cousin being gang-raped or burnt — the cries, the begging . . . you just want to end those phone calls"
"If you're listening to your cousin being gang-raped or burnt – the cries, the begging… you just want to end those phone calls," Estefanos said. "So I collected the money (from friends and relatives) and borrowed some."
But, after the traffickers released her cousin, she was arrested by Egyptian soldiers and held in a prison in Sinai for seven months. "At first we didn't know where she was," Estefanos said. "We thought (the traffickers) had killed her. It took four months to find her."
The HRW report says it is common for recently released trafficking victims to be arrested by Egyptian border police and detained for many months at police stations in northern Sinai until they can pay their airfare to Eritrea or Ethiopia.
"Egyptian authorities, in effect, hold the trafficking victims hostage a second time, subjecting them to indefinite and arbitrary detention until their relatives can produce the money for the air ticket, which secures their release and removal from Egypt," the report says. Detainees are denied access to adequate medical care for their injuries and asylum-seeking procedures.
Estefanos paid for her cousin's flight to Ethiopia, where she finally received treatment for severe burns and now lives in a refugee camp.
By the time Habte was released, he was in a critical condition but evaded arrest and was carried across the border into Israel by fellow Eritrean refugees. Doctors in Israel saved his life but could not save his hands, which require advanced reconstructive surgery he could not pay for.
Israel has since completed a fence that virtually seals its border with Egypt. In 2013, only 36 irregular migrants were intercepted while trying to cross into Israel from Egypt, compared to over 10 000 in 2012, before the fence was erected. In 2013 the Egyptian military also launched an offensive against Islamic militants in northern Sinai, which has continued into 2014.
The human rights activists report released in December 2013, which Estefanos co-authored, suggests that the sealing off of escape routes into Israel and the military campaign in the Sinai desert have resulted in increasing numbers of trafficking victims disappearing and presumably dying following the payment of a ransom and their release.
In March 2012, Yonathan Habte, then 26, decided to flee Eritrea where he had evaded military service and was facing jail. With a background in computer engineering, he was confident he could make a life in another African country. Instead, he was kidnapped near the Sudanese border and trafficked to Egypt.
Full report A by-product of the military campaign appears to have been the destruction of many of the houses used by traffickers to hold their victims, although Simpson of HRW and Estefanos both say this was not a stated aim of the operation.
"At one point, they rescued about 150 hostages, who were chained with each other, only to put them in prison and deport them," Estefanos said. "I have pictures of the houses where hostages were held, copies of (ransom) payments, but they (Egyptian authorities) never approached me to ask for that evidence . . . they've never been interested."
Since the military crackdown in Sinai started, Estefanos has received more calls about Eritreans being held for ransom in Sudan than in Egypt. "Some are still being taken to Sinai, but it has become more difficult now because of the military operation."
Meanwhile, increasing numbers of Eritreans are avoiding Egypt and Israel, and trying to reach Europe via Libya instead, risking treacherous desert and Mediterranean crossings. Italy recently released figures showing that nearly 10 000 Eritreans reached its shores in 2013, a 400 percent increase from the previous year. Of the more than 350 migrants who drowned when their boat sank off the coast of Lampedusa Island in October 2013, most were Eritreans and, according to Estefanos, 12 were survivors of torture camps in Sinai.
In its report, Human Rights Watch accuses both Sudan and Egypt of failing to take action to stop the trafficking and abuse of Eritrean refugees. However, Chiara Cardoletti-Carroll, the UNHCR assistant representative in Sudan, argued that in 2013 the Sudanese government took a number of important steps to prevent kidnappings and prosecute traffickers, including endorsing a joint initiative by UNHCR and the International Organisation for Migration to combat trafficking.
She noted that the deployment of a rapid emergency force outside the refugee camps near Kassala, and increased policing around the camps, had successfully deterred traffickers. "We have not had a single kidnapping incident out of the eastern camps since February 2013," she said adding that trafficking cases reported to UNHCR through its victim counselling services had also gone down significantly.
She confirmed that the routes used by Eritrean refugees had changed, with more heading to Khartoum, the Sudanese capital, which has become a jumping-off point for Libya. Khartoum is now becoming a "hot spot" for smugglers and traffickers.
Regional co-operation on the issue, particularly between Sudan and Egypt, is still lacking. "On this front, I feel there's a long way to go," Cardoletti-Carroll said.
– IRIN