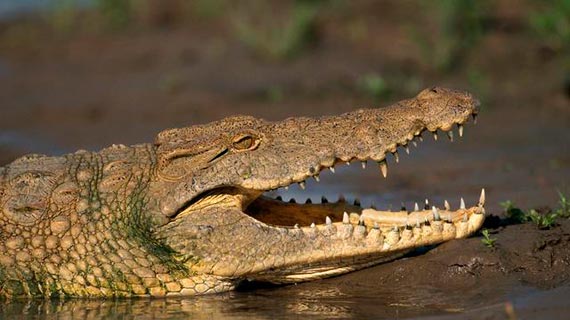 FORMER Kamativi Tin Mine employees are demanding the right to minerals at the disused mine as well as to harvest crocodiles that have been terrorising them and the Zimbabwe Mining Development Cooperation (ZMDC) is said to be considering the request.
RICHARD MUPONDE SENIOR REPORTER
The former mine workers are eager to harvest the crocodiles for their skins as they have a lucrative market.
The matter was discussed at a meeting between ZMDC bosses and the Kamativi Early Settlers Development Organisation (Kesedo) representatives led by its chairperson Freeman Banda at a meeting in Harare on January 21.
According to a letter by ZMDC acting general manager Wilson Chizhou, the management was engaging with the principals on the matter.
"We acknowledge receipt of your letters dated September 3 2009 as well as May 3 2013 wherein the Kesedo outlined the following proposals to the ZMDC, (i) home ownership, (ii) tin or tantalite panning project.
"We also thank you for the opportunity that we had to meet with representatives of your organisation at the ZMDC offices on Tuesday 21 January 2014, where Kesedo's two proposals were discussed.
"We recognise the significance of the issues raised by Kesedo. As such, we will engage our principals for guidance so that satisfactory resolutions can be reached on the issues raised," wrote Chizhou.
The former employees have been engaging ZMDC for some time without success as they seek to have permanent ownership of the houses they are currently occupying like their counterparts at Mhangura and Alaska mines who were sold the houses by the ZMDC after the closure of the mines.
Kesedo also reminded ZMDC to take into cognisance that before the eventual closure of the mine in June 1994, management at Kamativi had deducted a fee from their packages as house security key deposit which was being held in ZMDC coffers.
The closure of Kamativi left its former employees living in abject poverty and repeated efforts to re-open the mine has hit a snag several times.
Before its closure, Kamativi used to employ more than 4 000 people. The government has said it has plans to re-open the mine in Matabeleland North after reportedly finding a South African investor. About $50 million is required to resuscitate operations at the defunct mine.