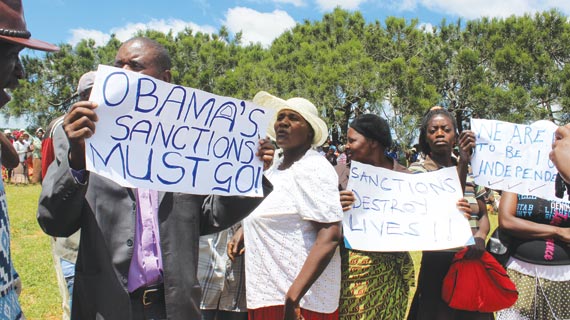 ABOUT 30 Zanu PF supporters were yesterday almost beaten up by angry villagers in Ntabazinduna for trying to bar United States ambassador Bruce Wharton from distributing food aid to the hungry community.
NQOBANI NDLOVU STAFF REPORTER
The Zanu PF supporters had descended on the Libeni Primary School grounds in the Gwenyakwenya area shortly after the arrival of Wharton singing revolutionary songs and waving placards inscribed "Down with America".
Other placards read: "Obama sanctions must go", "Sanctions Destroy lives", "We are proud to be 100% independent" and "Sanctions are a burden to our economy."
The Zanu PF supporters arrived when Wharton, who was in the company of a World Food Programme (WFP) delegation, was in a meeting with the local leadership before official proceedings began.
Hungry villagers who had gathered to receive food aid did not take kindly to attempts to disrupt the distribution proceedings and confronted the Zanu PF supporters and only the intervention of the chief cooled tempers.
Chief Mkhanyile Khumalo told Southern Eye that he was embarrassed and shocked by attempts to disrupt the distribution of food aid.
"It was really shocking. We asked (villagers) not to engage in running battles with them. We also had to ask them (Zanu PF) to hold their peaceful demonstration and not disrupt proceedings," Khumalo said.
A representative of the placard-waving Zanu PF supporters Robert Tshuma defended their attempts to disrupt the food aid distribution saying "America should remove sanctions to do away with this donor dependency syndrome".
"We don't care if they go away with their food aid. Our message to the ambassador is that he should tell his government to remove sanctions that are causing suffering in Zimbabwe. If sanctions are removed, Zimbabweans will become self-reliant and will not rely on food aid," he said.
A councillor from Ntabazinduna Mary Shelton also defended members of her Zanu PF party saying they were merely "sending a message to America".
Wharton refused to be drawn into commenting about the Zanu PF supporters' demand for the removal of sanctions and instead said the US remained concerned about the wellbeing of Zimbabweans and would continue with humanitarian programmes to assist the ordinary masses.
"I am happy that we are able to provide food assistance to communities like these. We support these humanitarian efforts because it is the right thing to do…we worked hard to get extra funding so that places like Ntabazinduna can get critical food assistance," he said.
Wharton added that he was proud America remained the largest food donor to Zimbabwe, which has faced persistent food shortages since the turn of the millennium.
"We have contributed more than $1 billion in food assistance since 2002. Our continued commitment is to the people of Zimbabwe. It is the hope of the US government that Zimbabwe prospers. It is in everyone's interest that Zimbabwe prospers and we are doing all that we can so that Zimbabwe prospers," he said.
Yesterday's food distribution programme in Ntabazinduna was part of a $29 million US food aid assistance programme to starving communities before the harvest season.