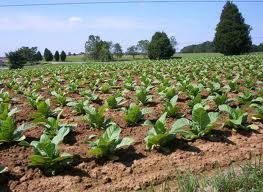 Tobacco farming taking root in Matabeleland as some farmers have extensively cultivated the cash crop in ways never seen before in recent years.
NDUDUZO TSHUMA STAFF REPORTER
Matabeleland farmers have of late shown interest in farming tobacco mainly due to more profits and despite the crop posing a threat to cereal crop output, food security, human and soil health.
Among the leading tobacco farmers in the region are Shandu Gumede, one of the pioneers of tobacco growing, who inspired Transport and Infrastructural Development minister Obert Mpofu to start farming the cash crop.
There are nine tobacco farmers in Matabeleland North with a combined 26 hectares of land under the cash crop.
Mpofu, held a field day at his homestead in Nyamandlovu last Wednesday to showcase his debut tobacco crop planted on 13 hectares of land.
Matabeleland North agronomist Davison Masendeke said although there were very few farmers cultivating tobacco in the province, the crop was not new in the region as white commercial farmers used to grow it many years ago.
"If you drive around the province, you will find barns at most farms meaning that the whites used to farm tobacco, but because of the low humidity, they had to stop as curing it was an issue.
"However, now it can be cured in the barns," Masendeke told Southern Eye.
He said the farmers had started with oriental tobacco in the 1990s that went on for one year "until someone invoked some archaic law that tobacco should be sold in Harare".
He said they resumed tobacco farming three seasons ago with one farmer in Bubi district and the number grew to the current nine.
He said they wanted to conduct viability studies with the aim of increasing tobacco farmers in the province which they would use to influence the opening of auction floors in the region.
"Our vision is for tobacco to be sold here, which means we have to improve on production.
"We are in the process of engaging contractors who will work with farmers," Masendeke added.
He said flue cured and oriental tobacco was ideal for planting in the province, but oriental needed farmers to look for buyers first before growing it.
"We have the advantage that the coal used for curing tobacco is closer in Hwange. In other areas outside Matabeleland, they use firewood, but here coal is closer and we have a railway line cutting through the province.
"If people from as far as Karoi can transport the coal for curing then obviously it's an advantage for us. The soil type is not a problem," he said.
Gumede, who was among the first to venture into tobacco farming in the province, said she was encouraged by an employee to cultivate the crop as she was facing problems raising money with food crops.
"One of my workers encouraged me to plant tobacco. I did my homework and discovered that the farm we have was previously a tobacco farm and the infrastructure was there," Gumede who invited Mpofu as a guest of honour at her field day to showcase the tobacco crop last year, said.
"We started with three hectares and the results were very good. The challenges I faced though were those of labour.
"People in the province had not worked in a tobacco farm before and I had to look for someone from Mashonaland to come and mentor them."
Gumede said part of her challenges involved the banks and insurance companies who considered her a risk as tobacco farming was not popular in Matabeleland North.
She had to refurbish the old barns using her own funds as she could not borrow money from financial institutions due to the risks they pointed out.
"This season, I am happy that some farmers have joined and started planting tobacco. The Tobacco Industry Marketing Board (Timb) and other organisations have shown interest in our activities. The advantage with us is that we have a strong support system from the local Agritex extension officers," she said.
Gumede is already imparting her knowledge to dry land farmers at Edwaleni in Nyamandlovu.
She said she was teaching the villagers that they could reserve a portion of their fields for tobacco farming as this would help them raise capital for food production.
Gumede said she had received education on how to build affordable barns from already existing infrastructure for the villagers that would take a few days to put up.
Speaking at his field day on Wednesday, Mpofu said he was inspired to plant tobacco when he went for Gumede's field day.
The Umguza legislator also revealed that he had got his farm manager Tapiwa Masenda from Gumede, who encouraged him to plant tobacco.
He pledged to build more barns that would be used by farmers in the district who did not have enough money to build their own for tobacco curing.
Mpofu urged local farmers to take up tobacco farming as it was one of the most rewarding crops in terms of revenue.
Agriculture, Mechanisation and Irrigation Development deputy minister Davis Marapira, who was guest of honour at Mpofu's field day, said his ministry and Timb would continue giving support to the new tobacco farmers.
"Given the 26 hectares of tobacco planted to date in Matabeleland North, I know this is the beginning of huge investment by farmers. I take pride in noting that the Mpofu family has taken a bold step by demonstrating beyond doubt that quality tobacco can be grown in this part of the country," Marapira said.
"In the past, growing tobacco in Matabeleland North was the least thought by farmers. The 13 hectares of tobacco we see today proves beyond reasonable doubt that flue cured tobacco is no more the preserve of other regions, but can be grown here too."