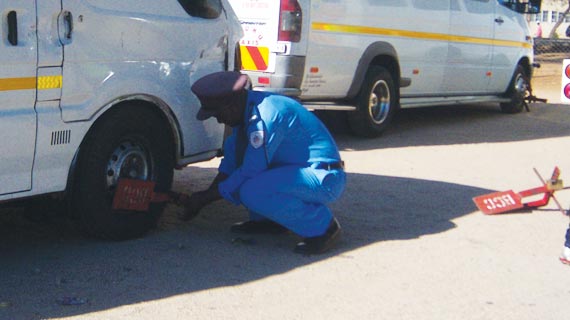 THE BULAWAYO City Council and police have launched a blitz targeting motorists with outstanding tickets for various traffic offences using a newly computerised system to bust offenders.
MTHANDAZO NYONI OWN CORRESPONDENT
Council traffic officers and the police on Tuesday mounted a roadblock on Luveve Road next to Mzilikazi armed with hi-tech traffic monitoring systems that can scan cars. They targeted motorists with outstanding fines.
The technology recognises number plates and points out all those owing fines.
Motorists with outstanding fines had their vehicles clamped and towed away if they failed to pay on the spot.
Dozens of frustrated commuters could be seen desperately flagging down lifts after being ejected from kombis caught in the blitz.
Zimbabwe Passengers' Association Secretary-general Paul Makiwa welcomed the blitz saying transport operators should adhere to road regulations to avoid unnecessary inconveniences.
"We do not want transport operators to misbehave.
"Council cannot clamp their vehicles for no apparent reason so they should simply follow council regulations," he said.
"If they have done something wrong, council should arrest them because we want sanity on our roads.
"They should also desist from overloading because that contributes to road fatalities.
"When they abscond from making payments, they simply force council to resort to such a blitz."
Professional Drivers' Association chair Albert Sibanda said council should conduct awareness campaigns to educate motorists on the importance of observing traffic regulations.
"Transport operators must ensure that their vehicles are roadworthy to avoid being arrested.
"They should stick to road regulations to reduce road carnage," he said.
"Council should also descend on foreign-based operators, omalayitsha who have a tendency of parking anywhere in town.
"For example omalayitsha have made the United Bulawayo Hospitals a rank and council must act," Sibanda said.
However, Sibanda said council should only impound vehicles for genuine reasons and not just for fundraising.
Bulawayo Public Transporters Association chairperson Strike Ndlovu said he could not comment on the blitz because council did not inform him about the crackdown.
Fines for traffic offences include failing to display parking discs in a disc zone and picking or dropping passengers at undesignated areas.
The fines range from $4 to $40. Police also fine commuters $5 for boarding kombis at undesignated pick-up points as a way of curbing lawlessness.
Council assistant public relations officer Bongiwe Ngwenya said the joint crackdown by council traffic officials and the police was a routine operation that would continue for as long as motorists did not pay traffic fines.