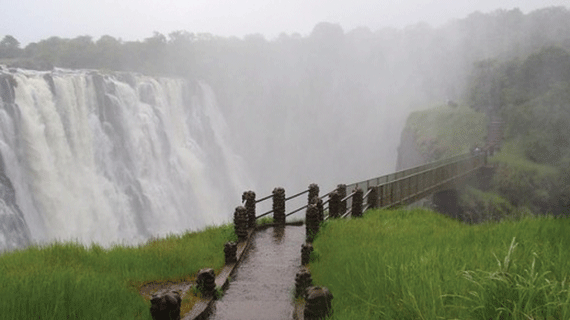 VICTORIA FALLS – Parks and Wildlife Management Authority says nearly 17 000 tourists, a third of them international visitors visited the famed Victoria Falls rainforest during the festive season, earning $270 000 in fees.
Statistics from the authority showed that of the 16 573 tourists who paid to explore the rainforest in the 10 days to January 2 this year, just over 5 000 were from outside Africa.
In terms of earnings, the international visitors spent $147 510 at the rainforest while tourists from regional countries paid $75 410 while earnings from locals, who pay less than their foreign counterparts, stood at $49 709.
There were no comparative figures available, but tourism executives told The Source that the just-ended festive season was among the best for the industry.
The rainforest had an average 542 daily visitors in 2012, according to Zimbabwe Tourism Authority statistics, compared to nearly 1 700 daily visitors over the peak 2013 Christmas season. A total of 198 000 toured the rainforest in 2012, according to the ZTA.
"The festive season was made of two halves — the Christmas period had more locals while the New Year period had more of regional and international tourists. All these helped in raising arrivals into this destination," said Hospitality Association of Zimbabwe official, Jonathan Hudson.
Tourism executive Clement Mukwasi said the rise in tourists could be attributed to the global exposure generated by Zimbabwe's co-hosting of the 20th United Nations World Tourism Organisation general assembly with Zambia.
"I think we are seeing some rebound as a result from the (hosting). This can help the sector recover in 2014," Mukwasi said.
Tourism expanded by 3,4 last year, but is seen by growing by 15 percent by 2015.
Zimbabwe earned $749 million from tourism in 2012, a 13% increase on the 2011 figure of $664 million. — The Source