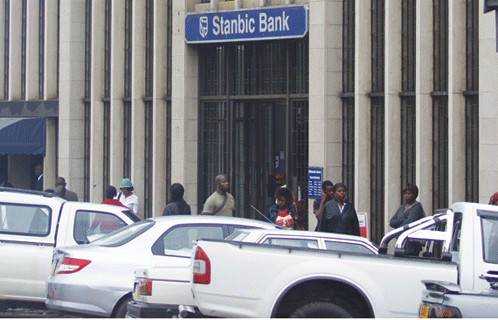 STANBIC BANK yesterday opened the 19th branch at the border town of Beitbridge as the award-winning financial institution spreads tentacles in Zimbabwe's fragile, but stable banking sector. Njabulo Ncube Deputy Editor
As of December 31 last year, Stanbic Bank boasted 18 branches situated in Harare, Bulawayo, Gweru, Chitungwiza, Kwekwe, Mutare, Chegutu, Ngezi and Victoria Falls.
In a notice yesterday, Stanbic announced the opening of its Beitbridge branch housed in the newly-built National Social Security Authority complex situated at Great North Road at the bustling border town.
"Your entry into world-class standard of banking has been granted," the bank said in a teaser to its customers as it commenced business at the border town.
Stanbic expansion into Beitbridge comes in the backcloth of a liquidity crisis bedevilling the banking sector particularly indigenous owned banks ahead of the festive season.
Reports have in the past few weeks been awash of customers besieging locally-owned banks presently experiencing cash shortages, greatly exposing the fragility of local financial institutions.
Allied Bank and MetBank have in recent days been forced to limit withdrawals. In Bulawayo yesterday, scores of policemen and women besieged the institutions as they jostled and shoved in desperate attempt to withdraw their December salaries.
A banking sector expert said the latest move by Stanbic shows there is room for expansion by strong well-capitalised and well-run banks in the country.
"While the banking sector largely remains sound and attractive to the established banks, it is inevitable that the small undercapitalised banks that are now struggling will continue to struggle as the current problems will lead to the phenomenon of flight to quality", he said.
It is also important to note that the small banks that are struggling are making big news, but are really insignificant from a systemic point of view. The banking sector in Zimbabwe remains largely stable and sound as the Reserve Bank of Zimbabwe has repeatedly said, he added.
Stanbic Bank Zimbabwe is a member of Africa's leading banking and financial services group, The Standard Bank Group Limited based in South Africa and listed on the Johannesburg Securities Exchange.
Rooted in Africa and with representation in strategic sub-Saharan markets, Standard Bank Limited is a regional banking force with a global sweep. With total assets of about $202 billion and employing about 53 000 people worldwide, Standard Bank has the largest presence in Africa of any African bank.
Its network spans 18 sub-Saharan countries and extends to 21 countries on other continents, including the key financial centres of Europe, the United States and Asia.
In addition to banking, Standard Bank has a strategic interest in the insurance industry through its control of the Liberty Group, one of Africa's leading life insurance offices and financial services groups.
The group has one of the biggest single networks of banking services in Africa. Through this network, it offers a wide range of banking products and services which are delivered through more than 1 000 points of representation in 17 African countries (including Zimbabwe).
It is active in international and cross-border transactions and in those areas liaises closely with Standard Bank Corporate and Investment Banking and Standard Bank London.
Stanbic Bank Zimbabwe can trace its origins to 1992 when the Standard Bank Group of South Africa acquired the African operations of ANZ Bank.