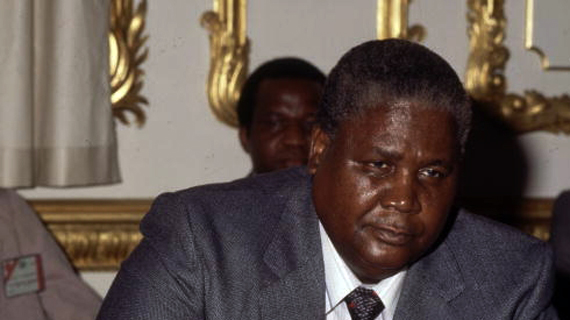 THE statue of the late Vice-President Joshua Mqabuko Nkomo was erected at the centre of the intersection of Main Street and 8th Avenue, Bulawayo, on Sunday night, but is still under wraps awaiting official unveiling on Unity Day on December 22. Nqobile Bhebhe Chief Reporter
Home Affairs minister Kembo Mohadi yesterday inspected the site whose vicinity is being spruced up for the unveiling ceremony to be officiated by President Robert Mugabe.
Although the statue is still under wraps, one can see through some gaps that it is draped with the Zimbabwe flag.
Mohadi said preparations for the unveiling were on course.
"The statue has been delivered and erected. It was erected last night (Sunday night) and the unveiling is on December 22," he said.
It could not be verified if it is still the same statue made by North Korean sculptors that was taken down in 2010 after the family and city residents complained about the low pedestal it had been erected on.
The three-metre tall bronze statue depicted Nkomo in a suit and holding his trademark walking stick in his right hand.
Meanwhile, Nkomo's family led by his younger brother Edward yesterday conducted traditional rituals at his grave at the Heroes' Acre in Harare.
The ritual was the second to be conducted by the family ahead of the statue unveiling next Sunday.
Jabulani Hadebe, chief executive officer of the Joshua Nkomo National Foundation, yesterday told Southern Eye from Harare that the family and the foundation had been updated on the statue.
"We were notified that the statue will be set up on Sunday evening . . . so we are now waiting for the unveiling on Sunday," said Hadebe.
He added that the ritual at the Heroes' Acre concluded without any incidences.
"Everything went on well today (yesterday) in the morning in Harare. It was a family event and the late vice-president's brother Edward led the ceremony," said Hadebe.
The first ceremony took place on Saturday in Kezi at the Nyongolo Shrine. Nkomo died on July 1 1999 and was accorded national hero status.