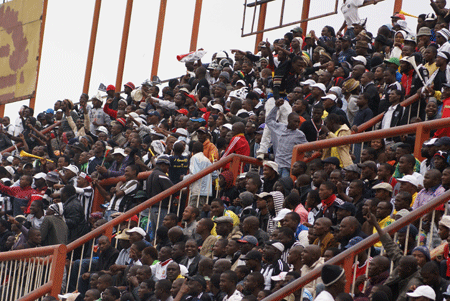 MDC-T has asked Bulawayo City Council to consider renaming Barbourfields Stadium (BF) after late former South African President Nelson Mandela, provincial chairperson Gorden Moyo revealed yesterday.
Staff Reporter
Mandela died on December 5 and will be buried in his ancestral home of Qunu today.
Bulawayo City Council in 1994 awarded the anti-apartheid icon Freedom of the City status, but the Zanu PF government frustrated efforts to have Mandela conferred the award.
Moyo told Southern Eye giving Mandela the Freedom of the City posthumously would be meaningless, but naming Barbourfields after Mandela could make a lot of sense as it was an important landmark in the city.
"We have asked our councillors to sit down and consider renaming Barbourfields Stadium the Nelson Mandela Stadium following the proper channels," the former State Enterprises minister said.
"In coming up with such a position, MDC considered that if Mandela had not been in prison in 1980, he would not have allowed the Gukurahundi atrocities to happen.
"He was also awarded the Freedom of the City by the Bulawayo City Council in 1994, but never got to be honoured.
"The choice of Barbourfields Stadium was informed by the fact that it is at the heart of the city and is patronised by many people in Bulawayo."
Bulawayo mayor Martin Moyo could not immediately comment on the latest development as he was unreachable on his mobile phone.
MDC-T controls all the city's 29 wards and passing the resolution would not be a major challenge. Barbourfields Stadium is a multipurpose facility owned by the council and is located in one of the oldest high-density suburbs of Barbourfields. Popularly known as Emagumeni, it is home of the country's oldest soccer team Highlanders FC and has an official siting capacity of 40 000.