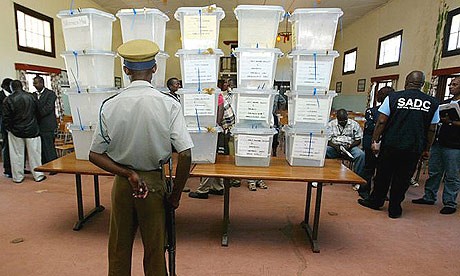 A 48-YEAR-OLD MDC-T activist, who was an election observer in the July 31 elections, was fined by the Gweru Magistrates' Court on Tuesday for communicating information obtained from inside a polling station without authorisation.
OWN CORRESPONDENT
Gweru magistrate Phathekile Msipa fined Lawrence Kadodo $200 for contravening Section 66 (a) of the Electoral Act which stipulates that only the chief elections officer is empowered to announce elections results.
Kadodo was given until December 31 to pay the fine failure to which he would serve a two-month prison sentence.
Kadodo of Mtapa suburb in Gweru was an election observer under the Joint Monitoring and Implementation Committee in which he had been deployed by the MDC-T.
Police said he informed a party member over the phone that despite soldiers being hired to influence results at the polling station, his party had emerged victorious.
Police officers manning the polling station overheard the telephone conversation and arrested Chidodo. He denied ever making such utterances, but Msipa convicted and fined him.