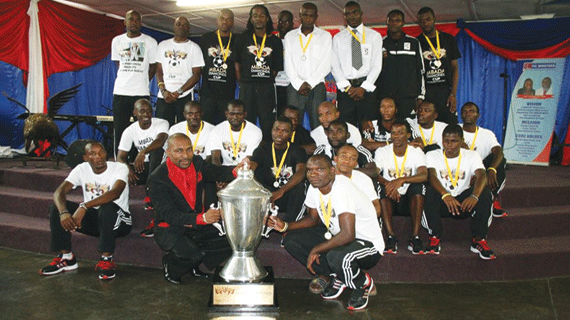 HIGHLANDERS' players and coaches yesterday worshipped at Eagle Life Assemblies in Thorngrove, Bulawayo, a day after beating How Mine 3-0 to win the Mbada Diamonds Cup at Barbourfields Stadium on Saturday. FORTUNE MBELE SPORTS REPORTER
About two weeks ago prophet Blessing Chiza of Eagle Life Assemblies predicted that Highlanders would not end the season without a piece of silverware.
A senior player yesterday confirmed that coach Kelvin Kaindu, his assistant Bekithemba "Super" Ndlovu, goalkeepers' coach Tembo Chuma and welfare manager Willard Mashinkila-Khumalo paid homage to the man of the cloth and took two hours to worship with the players.
"We went there from 10am to 12 midday and we just worshipped with the rest of the members of the church. We were about 18 players and the coaches. We didn't actually visit the prophet, but we went into the church and we had two hours of worship," the player said.
On Saturday, Highlanders players were seen wearing T-shirts emblazoned Prophet Chiza Predicts Big Win for Bosso after emphatically beating their neighbours How Mine.
A church member who was at the service on Sunday confirmed the visit by the Highlanders entourage and said it was not the first time that prophet Chiza had interacted with the team.
"The players were here and praised and worshipped with the rest of the congregants, much to the surprise of the church members who always took soccer players for drunkards.
Actually, the prophet visited the players on Friday before the game and talked to some of them in camp," the church member said.
Highlanders head coach Kaindu is a devout Christian and immediately after the game on Saturday, he said he was dedicating the trophy to Jesus.
"We dedicate the trophy to Jesus. It was not easy beating How Mine," Kaindu said.
However, prior to the match at a Press conference on Friday, Kaindu said he would not rely on prophecy to win the match.
"I am a Christian and a believer. I know what prophecy means. When a prophecy comes with regard to you, it just makes it difficult. We need to work hard and beat How Mine. You can't just rely on the fact that something was prophesied," Kaindu said.