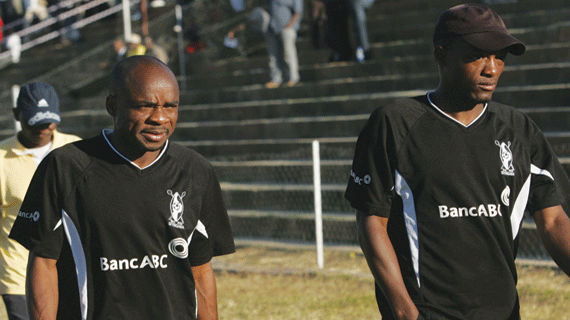 HIGHLANDERS coach Kelvin Kaindu arrived in the country yesterday ahead of the crucial Mbada Diamonds Cup semi-final clash against Harare City set for Mandava Stadium in Zvishavane on Saturday.
sukoluhle MTHETHWA Sports Reporter
The Zambian gaffer left the country for Zambia after the 0-1 loss to Dynamos at Barbourfields Stadium to take part in a Uefa licence coaching course in the United Kingdom.
Kaindu yesterday told Southern Eye Sport that he was not yet in a position to comment about the Saturday tie as he was yet to have the first training session with the team. His assistant, Bekithemba Ndlovu said he was confident they would beat the Sunshine City Boys as their target was to win this year's edition of the competition.
"To us it's an improvement to reach the semi-final of the cup because we bowed out in the first round in the first edition and we were also knocked out in the quarter-final stage last year. What we want is to go all out and win the cup.
"I am confident that we will get a good result. It is going to be an entertaining match. Judging by our preparations, we are confident that we would come out smiling at the end of the day," he said.
Of late, Bosso have failed to make an impact in this tournament as they were booted out by Zimbabwe Saints after losing 7-6 on penalties in the inaugural edition in 2011 before they lost 2-3 to Monomotapa in last year's quarter-final.
Both matches were played at the Colliery Stadium in Hwange. Despite all this unfavourable history, the former Bosso defender said they were ready to face Harare City.
"Cup games are unpredictable, but it all depends on preparations and we have prepared well. We have good players and with the right attitude I do not forsee us failing. The return of Njabulo (Ncube) will be a big boost to us because he has been scoring goals for us.
"Gabriel Nyoni who has been sidelined by an injury, is not fully fit, but has been training. Beaven Chikaka is also injured. Chances of him being available are limited. We are also assessing him," he said.
Harare City coach Bigboy Mawiwi said they were prepared for the match.
"We will be playing Highlanders over the weekend. It will be a very tough assignment especially with defender Crispen Dickson out injured. Witness Nyamutsaka was also stretchered off in the match against Black Rhinos while Crybert Muvuti is injured too. James Jam is not feeling well and he has not been training.
"It is terrible, but we have other replacements like Zibusiso Sibanda. We also have Tendai Ngulube. It will be a tough game, but we are motivated because last year we lost 0-3 to FC Platinum in the first round. We will be more than happy to progress to the next round. We are preparing well and the fact that it is a money game motivates the players," he said.
Mawiwi said Bosso have a very good coach who has just been attending a Uefa coaching course.