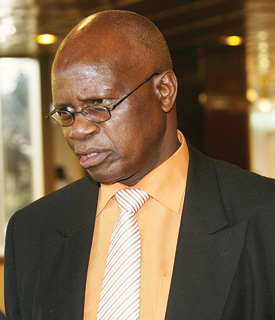 ZIMBABWE requires "real money not small money" to grow the economy in the short to medium term as business activity slows down, Finance minister Patrick Chinamasa has said.
Victoria Mtomba Business Reporter
Speaking at the AMH Conversations held in Harare, Chinamasa said when he was appointed Finance minister the news was received with mixed feelings from his friends and enemies with the latter hoping he would fail.
AMH Conversations are dialogue sessions held by the Alpha Media Holdings — publishers of the NewsDay, Zimbabwe Independent, Standard and Southern Eye — on various topical issues. The dialogue was held under the theme "Unlocking value, Getting Zimbabwe to work".
The former Finance minister Tendai Biti said the country required a stimulus package of $4 billion.
"To get out of this situation we need real money not pennies. People are coming with $20 million, $25 million, that is not enough," Chinamasa said.
"We need real money that should not come at commercial rates, but concessional rates. I need a period of grace to do the sort of things that I have to do."
"My enemies were jubilant at my appointment as Finance minister they anticipated a Waterloo, a failure. That reflects the challenges our economy is facing," he added.
Already, industry capacity utilisation declined to 39% from 44% last year due to a host of problems besetting the economy. The mining sector, now the mainstay, also requires $5 billion.
According to a report seen by this paper, the Chamber of Mines of Zimbabwe said more investment was needed in the platinum mining sector to outpace Russia as the world's second-biggest producer of the white metal.
Zimbabwe currently has the second known largest platinum reserves after South Africa.
Experts say underfunding and limited exploration has over the years stifled growth of the mining sector — now the mainstay of the economy — after overtaking agriculture.
Mining contribution to gross domestic product has grown from an average of 10,2% in the 1990s to an average of 16,9% from 2009–2011.
Reeling with a huge import bill and unsustainable trade deficit, analysts say the government should review the indigenisation and empowerment regulations which compel foreign-owned companies to sell controlling stakes to locals.
The Finance minister said the country was facing a huge power deficit with a total of between 1 100 megawatts and 1 200 megawatts being produced by the country compared to 2 500 needed.
Chinamasa said the country couldnot move forward until the issue of power was addressed.
He said for the past 20 years infrastructure has not been attended to; and the agricultural sector had not been fully funded.