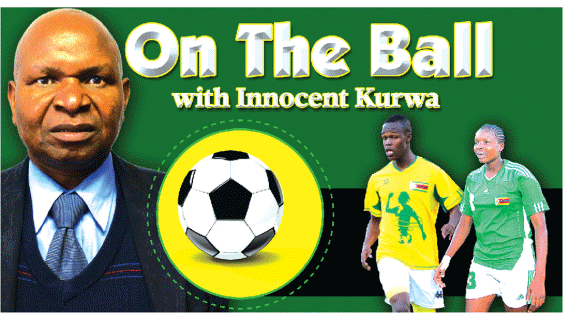 A WORD of encouragement and congratulations, as well as a pat on the back to the majority of supporters of both Highlanders and Dynamos for behaving well and desisting from violence at the high stakes Castle Lager Premier Soccer League (PSL) match at Barbourfields Stadium on Sunday.
Innocent Kurwa
Yes, police detained rowdy elements and there was teargas as police sought to disperse some elements that were bent on inciting violence, but compared with past encounters between the country's two best-supported clubs, this last weekend was a joy for any peace-loving football follower.
Of course, the hope of every one of us is that there is zero tolerance to violence and rowdy behaviour in every quarter and that we can watch these high octave matches between Highlanders and Dynamos without ever looking over our shoulders.
A word of praise should also go to the Zimbabwe Republic Police and the media — they both played a crucial role in educating people against violence.
While events on the pitch are beyond the control of most of us, players and club officials need to always appreciate that there is a positive correlation between what happens on the pitch and the possibility of violence and rowdy behaviour.
In other words, players and club officials have as much a role to play in reducing the possibility of violence as any one of us. In line with this argument, players Njabulo Ncube and Patson Jaure, both red-carded in the first half of the match, should be reminded that there is need for players to remember that incidents on the pitch can spark unwanted reactions on the terraces.
There is, therefore, always a need to check one's emotions and tempers, particularly in a match with so much at stake.
Apart from disadvantaging their teams — both Highlanders and Dynamos will not be able to field these key players in their next two matches — the behaviour of the players put unnecessary pressure on match officials and also created an unwanted flashpoint for those in the terraces.
It must always be borne in mind that by far the majority of people attending matches are not at the same level in their interpretation of laws of the game and what may be a warranted red card is open to different interpretations on the terraces with some of the interpretations based purely on which team one supports.
In other words, a red card, genuinely deserved and given, can spark heated debate and raise emotions and, farfetched as it may appear, spark violence.
They say a picture tells a thousand words — the picture on the front page of the Southern Eye yesterday, certainly told that those photographed disagreed with the referee's decision to give a penalty.
Never mind which team they belonged to, all that is necessary to mention is that players and club officials need to be responsible enough and remember that their behaviour on the pitch can destroy an otherwise good Sunday afternoon.
It is, therefore, necessary for technical departments of all clubs, to inculcate in their players the need to behave responsibly on the pitch and not forget that they hold in their hands the wellbeing and lives of all those in the stadium, themselves and match officials included.
PSL administration and club administrators need to act decisively and whip into line players that put the lives of people at risk through temper tantrums on the pitch.
The first step is to educate all players on what constitutes responsible behaviour on the pitch and highlight the different interests of the various stakeholders that attend any match.
One sports article at the weekend revealed that Zifa had read the riot act to player agents at a recent meeting with agents in Harare. The issue of player agents in this country is not given the seriousness it deserves and the worst culprit in this is none other than Zifa itself.
For starters, the national football controlling body needs to come out clearly who is and who is not an agent in Zimbabwe; how one qualifies to be an agent in terms of Fifa, Caf and Zifa rules and regulations; what the rights and obligations of player agents are and how often agents are re-examined.
Surely we all know how one qualifies to be a referee and that one has to take an annual fitness test — it used to be the Cooper's fitness test (a test developed by Kenneth Cooper in 1968 for the US military) — and at what age one has to retire as a referee.
We all know what coaching certificates one needs to hold in order to coach a PSL club; the list is endless.
Why this shroud or veil around player agents?
Welcome news is that Zifa president Cuthbert Dube and his deputy Ndumiso Gumede will soon embark on a meet-the-people (my own term) tour of the country during which they will come face to face with the football fraternity.
The promised trip has been long in coming and is of course much anticipated especially by some of us in the media.
It will be an opportunity to ask a lot of questions, including some on player agents!
Hopefully Dube and Gumede will have in their team all their technocrats and that these will bring at their fingertips all the issues that revolve around football in Zimbabwe!