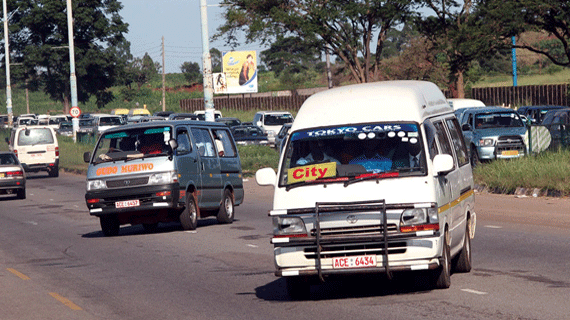 A WAR has erupted between the Masvingo City Council and kombi operators after the local authority unilaterally relocated commuter ranks to the outskirts of the central business district (CBD). TATENDA CHITAGU OWN CORRESPONDENT
Since the council forcibly moved taxi ranks, kombi drivers have been playing a cat-and-mouse game with municipal police by picking up passengers at undesignated points in the CBD.
The kombi crews argue that they have no choice, but to play cat-and-mouse with municipal police because the new ranks located downtown are too far.
The local authority convened a meeting with kombi operators to discuss the issue of a permanent site which council says it has identified but the operators were not convinced.
"We have identified a new permanent site which we will develop, but I cannot give you a time-frame as to when we will finish developing the terminus as council is yet to sit and brief the new councillors, still in the dark about the problems bedevilling the council," chamber secretary Lovemore Tanyanyiwa said.
Tanyanyiwa added that he was surprised to see kombi drivers continuing to flout council by-laws by picking and dropping commuters in the CBD when they were given a site to operate from.
"When we came with the new site, we consulted the representatives of the kombi operators, but we are surprised they have made a U-turn now," he said.
However, a representative of the Masvingo Kombi Operators' Association said council had failed to protect them from pirate operators who have now filled the gap left by them in the CBD while they wait downtown for commuters.
"There are unregistered operators who are driving us out of business as they pick commuters who do not want to walk all the way to the temporary site, which is downtown," the official said.
"We feel council should protect us and arrest those operators because if they don't, that is when we start getting into the CBD."
He accused the municipal police of being too heavy-handed with them saying chasing them away may lead to loss of lives as drivers try evading arrest while passengers are boarding or alighting.
Tanyanyiwa promised the local authority would look into the matter and protect registered operators.