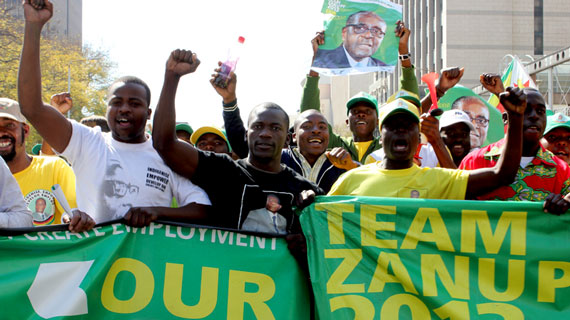 ZANU PF yesterday distanced itself from suspected party youths moving around collecting "protection fees" of up to $500 per week from some Bulawayo companies.
STAFF REPORTER
Zanu PF Bulawayo provincial youth chairperson Mabutho Moyo said they had not received such reports adding that the youths were not members of his party.
"We have our own way of fundraising different from what these people are doing," Moyo said. "Maybe it's just people masquerading as members of Zanu PF."
However, party sources said the issue of demanding money form white-owned companies had caused serious rifts within the youth wing.
"The issue of collecting money from companies is not a new thing within the youths, but it is escalating to alarming levels," the source said.
"There are some youths who forge letters with party letterheads and visit companies asking for money. They target mostly white-owned businesses because of the anxiety created by the indigenisation drive following the party's resounding victory.
"They go there either claiming that they need to hold party programmes or demanding protection fees." The sources said some companies had reported some of these youths to the police.
However, Bulawayo police yesterday said they were not aware of the reports.
In August, a number of organisations claiming links to Zanu PF visited a number of business premises on a "fact-finding" mission asking for the financial standing of organisations.
Some reportedly approached the companies demanding a stake in accordance with the country's indigenisation regulations.
However, the party's provincial deputy secretary for indigenisation and empowerment, George Mlala, distanced the party from these activities saying they were waiting for a programme from the government.
Last year, Zanu PF youths invaded buildings in the city owned by members of the white and Indian communities, but they were forcibly evicted by the police.