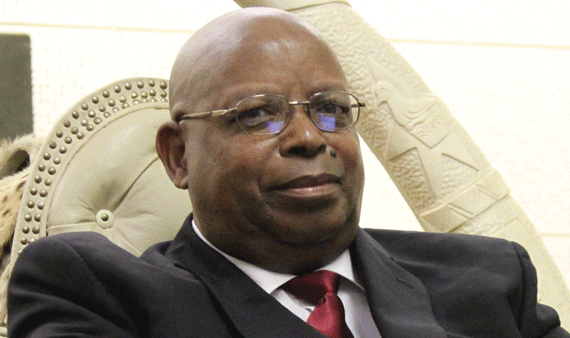 SPEAKER of the National Assembly Jacob Mudenda yesterday said he is keen to return to the Zanu PF politburo after resigning from the Zimbabwe Human Rights Commission (ZHRC) following his election as the presiding officer of the lower house of Parliament.
NDUDUZO TSHUMA STAFF REPORTER
Mudenda told Southern Eye he would wait and see whether or not President Robert Mugabe will recall him to the party's highest decision-making body, where he resigned after his appointment to the ZHRC as required by law.
In terms of the law, Mudenda had to resign from the ZHRC within 21 days of assuming the parliamentary job.
Mudenda was the politburo's pick for speaker and was sworn in after being nominated unopposed by Zanu PF, which has a two-thirds majority in the bicameral Parliament.
"I had resigned from the politburo. I still have to confirm with the President. It was a precondition that one had to resign from their political posts to serve in the ZHRC," the former Matabeleland North governor said.
Mudenda had also resigned as a partner from Bulawayo law firm T Hara and Partners in January 2011 to take up the ZHRC post after its formation by the coalition government in 2009.
He had only chaired the ZHRC for seven months before being elected by speaker of the National Assembly at the beginning of last month.
Mudenda replaced the commission's founding chairperson Reginald Austin as chair after he resigned in December last year complaining the ZHRC's establishment had been "a tale of unreadiness, delay, lack of commitment and serious focus" on the part of the government.
However, Mudenda said he was not returning to legal practice.
"I am not going back to practice until my term (as speaker ends). Even then, I would be an advocate," he said. "You cannot practice when you are from an arm of the government."
Mudenda said there was need for the government to urgently provide $3 million to facilitate the smooth operation of the human rights watchdog.