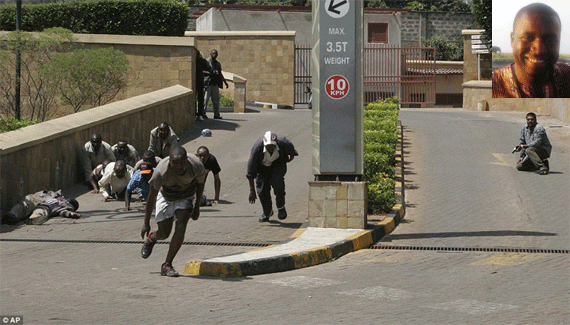 Almost a week after the deadly Kenya mall attack by Somalia's terrorist group Al- Shabaab, a Bulawayo man, Norman Musimwa, has come out to tell the story about his lucky escape from the siege at Westgate Mall.
Staff Reporter
At least 68 people were killed and hundreds others were injured in the attack that began on Saturday, September 21.
Musimwa a small business consultant originally from Old Lobengula has been living in Nairobi with his wife and child since 2011. Below is his gripping story.
Basically it took me nearly two hours to get to safety. I had just driven into the mall basement parking and no sooner had I gotten out of my car (I still had the driver door open and was reaching for my bag in the back seat) when l heard the first two gunshots.
At first l didn't realise they were gunshots. It's only when there were two loud explosions and more intense gunfire that I realised something was horribly wrong.
People (I have no idea who) were shooting and there was smoke filling the basement. The explosions and gunshots were no more than 15 to 20 metres from where I was.
My first thought was to run back in the direction I had driven in from. At that point I realised there were people shooting in that direction as well.
I pretty much made up my mind at that point that l wasn't going to run because that would get me shot.
At that point l decided to get underneath a vehicle nearest to mine for cover.
Unfortunately my whole body could not completely fit under the car.
My head and neck were exposed. I just stayed like that for a few minutes while the gun fire continued.
When the gunshots stopped momentarily, I went back to my car and got into the boot and locked myself inside. I was in the boot for at least 45minutes.
Eventually I had to come out because of the heat in the boot………When I did, some security guards told me to go back into my car because that was the safest thing to do at that time.
It's only while they were still trying to convince me to go back, that the gun fire resumed.
I have no idea in which direction they ran, but l ran back into my car boot locked myself in and continued praying. I was in there for another 15 to 20 minutes.
Eventually I found my way to the fire escape entrance where there were about 10 people gathered there and they were trying their best to do first aid on two people that had been shot.
A decision was made (I don't know how because at that point there was a language barrier) to take away the injured.I have no idea to where.
After the injured were taken away, about six men remained, including myself.
People were frantically making calls and I recall a gentleman who said to us, " don't panic I have called the Cabinet secretary of…….. (I don't recall which one)"
After a few minutes without gunfire, two men came into the basement from the opposite direction to where we were, shooting again.
At that point we all panicked and ran up the fire escape staircase.
I have no idea whether that was the police or the bad guys.
I just ran up the staircase which leads to the rooftop parking.
When we got to the rooftop parking l could clearly see at least six bodies.
One lady kept moving one of her legs, but was not screaming for help or anything. She just lay there, injured, moving her leg.
When the gun shots resumed, I just decided l wasn't going back into the staircase so l ran across the parking lot and hid under a car.
A police helicopter flew over the mall and people came out of the staircase, screaming and waving newspapers.
I just stayed put under the car, until some guys in civilian clothes carrying big guns came to take us out.
From there, they made us crawl on our hands & feet while they exchanged gunfire with the bad guys.
Personally I didn't sustain any gunshots.
The only injuries were bruises l got trying to hide under cars and crawling on my hand and knees to safety.
My car, cell phone and cash are still stuck at the mall. We have been told we will be told when to come for those.
It's a long story, I have tried to condense and skip some details. It would have been easier if you had called.
I would have narrated it better. Hope this helps.