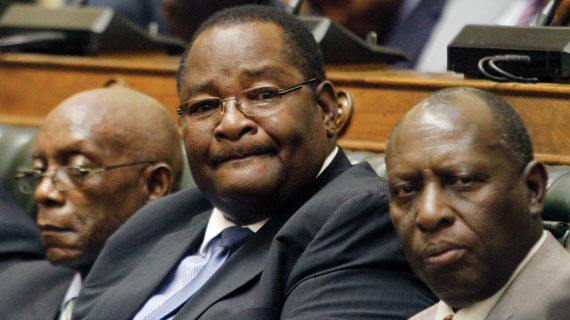 TRANSPORT minister and Zanu PF politburo member Obert Mpofu has dismissed as absurd accusations by MDC-T leader and former Prime Minister Morgan Tsvangirai that he bribed Victoria Falls councillors to vote for his party's candidate.
NDUDUZO TSHUMA Staff Reporter
Zanu PF's Sifiso Mpofu was voted Victoria Falls mayor last week Monday after securing six votes ahead of MDC-T's Margaret Valley who got four.
This was despite the fact that Zanu PF only won three council seats in the town in the July 31 polls compared to MDC-T's seven.
Tsvangirai made the bribery allegations in an interview with our sister paper the Zimbabwe Independent last week, saying a senior Zanu PF leader and a businessman in Mutare had bribed MDC-T councillors into voting against the party's preferred candidates.
"Councillors who revolted should be accountable to the people who voted for them," Tsvangirai said.
"They will go back to the constituency and explain what happened. The party will also make them accountable and they may be recalled.
"In Victoria Falls, the councillors were bribed by Transport minister Obert Mpofu . . . We have two councillors from Chitungwiza who came forward and said they were given $500 by Zanu PF."
Supporting Tsvangirai's allegations was party deputy organising secretary Abednico Bhebhe who said they were in the middle of investigations, but Mpofu topped the list of the party's suspects in the Victoria Falls bribery scandal.
However, Mpofu rubbished the claims saying they were desperate assertions from a sinking party.
"Uyangihlolela (God forbid!) I don't even know those councillors," Mpofu said. "I have never seen them and I was last in Victoria Falls before the elections.
"He (Tsvangirai) is not serious. He should sort out issues within his party and his rebellious councillors all over the country.
"When a person is drowning, they clutch at anything no matter how useless and eventually sink.
"The bottom line is that Tsvangirai is sinking with his lies."
However, Bhebhe said yesterday the party would leave no stone unturned in sniffing and flushing out councillors accused of taking bribes.
"We are in the middle of investigations, but we are suspecting Mpofu," Bhebhe said. "We will leave no stone unturned to root out this corruption."
Last week, Bhebhe told Southern Eye that at least three MDC-T councillors in Victoria Falls had been fingered in the scandal likely to widen fissures in the party already haunted by divisions thought to have led to its poor performance in the July 31 elections.
MDC-T Matabeleland North chairperson Sengezo Tshabangu said they had identified the three councillors who voted for
Zanu PF in Victoria Falls after allegedly getting bribes, but could not be rached for comment yesterday.
Besides Victoria Falls, MDC-T councillors also voted for Zanu PF mayors in Redcliff and Kwekwe despite their party having majority seats in the municipalities.