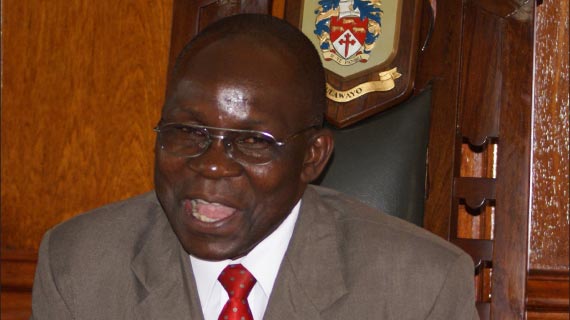 BULAWAYO mayor Martin Moyo of MDC-T says he has a vision to transform Bulawayo to a world-class city.
NDUDUZO TSHUMA STAFF REPORTER
On Monday, Moyo succeeded former Nkulumane councillor Thaba Moyo after he was elected unopposed.
Yesterday he told Southern Eye his immediate task will be to change the face of Bulawayo, citing the need to spruce up the image of city buildings that have suffered years of neglect.
"My vision for the city is an efficient system, effective service delivery, water delivery, road networks and lighting," Moyo said.
"I hope that with time, the economy will improve and we shall work on the upgrading of our city to attain aesthetic beauty.
"Hopefully we will encourage people to paint their buildings. We will also paint our own buildings."
The ward three councillor expressed concern at the deterioration of the city's recreational facilities, especially Centenary Park.
"The rehabilitation of the Centenary Park is dependent on the improvement of the water situation," he said.
"The grass there was sprinkled by reclaimed water from treatment plants."
Moyo said most of his plans hinged on the rehabilitation of the city's economy which has been on a decline for almost two decades due to company closures and relocations.
"Council provides services to the people and presently about 80% of those people are outside employment," he said.
"Should the economy improve and industry revived as promised, we will have many people working and paying council's services."
Some of the thorny issues awaiting the new mayor's attention would be the Freedom of the City awards that had to be postponed last year following disagreements on likely recipients.
Previous councillors had proposed to award MDC-T leader Morgan Tsvangirai, his deputy Thokozani Khupe and former Water minister Samuel Sipepa Nkomo.
But the process was abandoned after it created a major storm with critics arguing the proposed recipients did not deserve the honour.
"We will have to sit as a new council and find ways on how to handle the matter," Moyo said.
"If a freedom of the city is granted then it should be given. It is not a decision for me to make but a collective one."
Moyo turns 61 on December 30. He worked as a teacher for more than 20 years.
"I am a teacher by training having taught for more than 20 years, eight of which I served as headmaster in one of the celebrated schools in Matabeleland North," he said.
Moyo left teaching in 2002 when the country was experiencing an economic meltdown.
"I tried the Diaspora, but it did not work. In 2004 I joined Old Mutual as a financial advisor," he said.
"I will be leaving the organisation in January next year as I have reached my retirement age."
Serving his second council term, Moyo says he bought his MDC card in 2000, but became more active in the party in 2003.
"I was PF Zapu, but was never Zanu PF. I was not part of the Unity Accord hype because of a number of reservations," he said.