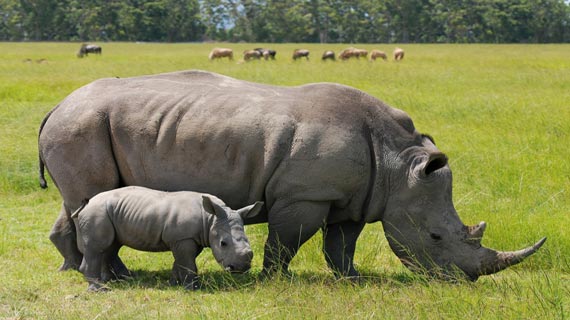 ZIMBABWE will tomorrow join the rest of the world in commemorating World Rhino Day amid concerns of increased decimation of the endangered species through poaching.
SENIOR REPORTER
In a statement yesterday, Zimbabwe Parks and Wildlife Management Authority (Zimparks) said the country had lost eight rhinos to poachers since the beginning of this year.
"The country in 2011 lost 30 rhinos in private land and five rhinos in State land to poaching. In 2012, 14 rhinos were lost to poaching in private land and eight in State land. In the year 2013, from January to June, we have lost eight rhinos to poachers all in private land," Zimparks said.
"In 2013, the majority of the rhino poaching incidents have been carried out in some private conservancies. The country has less than 1 000 beasts of both black and white rhinos."
The commemorations come amid reports of a major ecological disaster in Hwange where about 64 elephants recently died of suspected cyanide poisoning allegedly administered by a syndicate involving six local people and a South African businessman.
"Zimbabwe has come up with a number of strategies to ensure protection of flagship species. The anti-poaching unit, the back-bone of wildlife conservation with special attention to the endangered species such as the rhino, both black and white and the elephant, has seen resources being deliberately channelled towards anti-poaching activities."
Zimparks spokesperson Caroline Washaya-Moyo said this year's commemorations would be held in Bulawayo under the theme "Rhino leading the charge against extinction".
Environment, Water and Climate minister Saviour Kasukuwere will be the guest of honour.