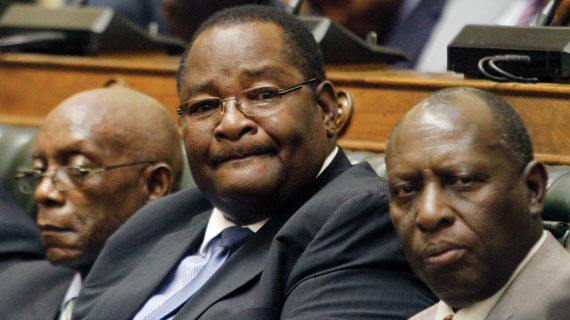 TRANSPORT and Infrastructural Development minister Obert Mpofu yesterday said he was under pressure to ensure the completion of the Joshua Mqabuko International Airport upgrade, barely a fortnight after taking over the portfolio. DUMISANI SIBANDA ASSIGNMENTS EDITOR
Upgrading of the airport in Bulawayo began over a decade ago and has been stalled by lack of funds.
But the former Mines and Mining Development minister said he had since contacted the Civil Aviation Authority of Zimbabwe (CAAZ) to complete the upgrade "as soon as possible."
"I do not know what is stopping the opening of the upgraded facility at the Joshua Mqabuko Nkomo Airport," Mpofu told an induction workshop for heads of departments in his new ministry in Harare.
"This is a facility named after a great person and we should not gamble with his name."
Zanu PF has been accused of neglecting numerous projects meant to honour the late Vice-President Joshua Nkomo's legacy such as the airport.
"When I am travelling by plane to Bulawayo, especially now as Transport minister, people ask me about the airport and I keep on saying I am new in the ministry, but I cannot continue saying that," Mpofu said.
"We can't have travellers disembarking at the airport using that hangar or is it a prison?.
"It does not paint a good image of Zimbabwe. I hear the project is expected to be complete before the end of the year, but I do not have that patience.
"It should be done as soon as possible. I have pressure from my principals and the people."
Other projects that Zanu PF promised were being initiated in memory of Nkomo's contribution to the liberation struggle, but have not been completed 14 years after his death include statues to be mounted in Harare and Bulawayo.
The Ekusileni Hospital in Bulawayo also remains closed years after it was constructed.
Mpofu said there was also need to speed up work on the Harare International Airport runway project and "upgrade of the other smaller, but equally strategic airports like Buffalo Range, Kariba and Hwange".
The Harare project — which will see the construction of a five kilometre-long runway to accommodate the world's largest airbus — is expected to be complete by December.
Mpofu said all boards of parastatals under his ministry would now have a director to "articulate the ministry's policy direction and enable effective and timeous feedback".
The parastatals include Air Zimbabwe, National Railways of Zimbabwe, Road Motor Services, Zimbabwe National Road Authority, CAAZ, National Handling Services and Central Mechanical Engineering Department.
"If you collect money for a week at a tollgate it will be enough to develop the tollgate," he said. "We will be talking to the Zimbabwe Revenue Authority about that.
"I don't think you need a Cabinet decision to develop a good tollgate.
"The nation has got high expectations from this ministry as transport and infrastructure issues are critical and key economic drivers necessary for increasing trade internally and regionally.
"We have no option, but to deliver.
"If we do not play our role well as enablers, we can easily become the missing link in the national transformation equation and that is not desirable."