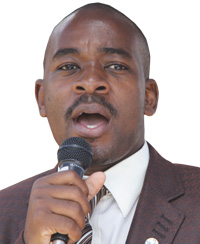 MDC-T organising secretary Nelson Chamisa, feeling the heat after being criticised for causing the party's electoral loss, has turned to God for comfort, saying he is being unjustly criticised.
Report by Staff Reporter
Reports last week indicated that Chamisa was criticised for MDC-T's poor electoral showing and party members were baying for his blood.
"I have been harassed, attacked, imprisoned, blackmailed by competitors, unjustly criticised, betrayed and undermined by friends and comrades, poked, prodded and stuck like a prize pork roast," he posted on his Facebook account yesterday.
"I am not the first one and certainly not the last one to suffer vilification, demonisation and hostility at the hands of this world."
"My master Jesus suffered it, Job went through it, Daniel tested it and Apostle Paul bore the pain to the point of being told that God's grace is sufficient … because the Lord's strength is made perfect in our human weakness."
Chamisa's organising department was accused of making too many mistakes that demoralised the grassroots who bemoaned what they saw as dictatorial tendencies, especially in the imposition of candidates.
The organising department was accused of making suicidal errors, but party leader Morgan Tsvangirai reportedly came to Chamisa's defence, saying one man could not be responsible for the party's loss.
But Chamisa says his Facebook post had nothing to do with his tribulations in the party, saying he was a born again Christian, who was using social media to preach to his friends.
He was, however, evasive in disclosing whether he had faced criticism from his party, saying he was not to blame for the loss.
"Chamisa is not Nikuv, he does not control chiefs who force marched people into polling stations, he does not have control over the Zimbabwe Electoral Commission and he is not the people who intimidated people in rural areas," he said, referring to himself in the third person.
"Whoever is looking for reasons and a person to blame for the outcome must visit Nikuv."
Chamisa said he had done his best for the party and he believes the supporters of MDC-T were aware of what he had done.