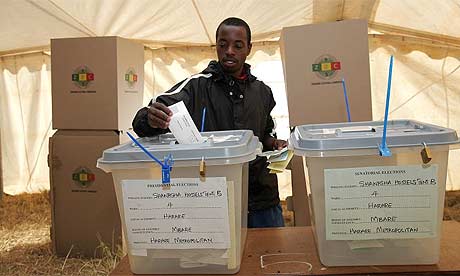 THE Crisis in Zimbabwe Coalition (CiZC) has described the endorsement of President Robert Mugabe's victory by Sadc as retrogressive for democracy in the region.
REPORT BY STAFF REPORTERS
Sadc and the Africa Union in their preliminary reports on the July 31 elections, concluded that the polls were free and fair, sparking protests from local pro-democracy activists.
"The problem is that we now have protectionism in Sadc, where the principle is that 'you cannot harm your brother or sister'," Joy Mabenge, a CiZC official said.
"The pressure that we would like to apply on the regional bloc from now onwards with fellow Sadc citizens is that it is not good to lower standards, as it flies in the face of the democratisation agenda in the region."
The non-governmental organisation vowed to push the regional bloc not to deviate from regional democratisation guidelines.
"The reality of the matter is that we really need to push Sadc because they set principles and guidelines, which are watertight that must be followed by every member State and what seems to be happening now is that Sadc is allowing itself to lower standards as evidenced by the Zimbabwean case," Mabenge said.
But Trevor Maisiri, a senior analyst with the International Crisis Group, described the CiCZ's protests as futile, adding that Mugabe's endorsement meant the Zimbabwe issue had been taken off Sadc's agenda. "Definitely the election of Mugabe as Sadc vice-chairman is a basic endorsement by the body that Zimbabwe is now off the conflict map of the region," he said.
"The Zimbabwean case is not merely about domestic politics, it is about regional politics enmeshed in the complex global politics — especially the Afro-Western divide.
"Remember, there are Western countries and blocs that have not endorsed the Zimbabwe election, Sadc is basically making a political statement to these countries."
Maisiri said it was unlikely that Sadc would still be interested in the Zimbabwe issue for the foreseeable future.