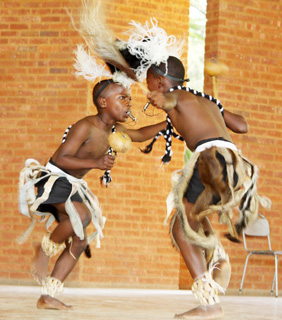 RENOWNED academic and founding vice-chancellor of the Women's University in Africa Hope Sadza has donated a trophy for the Jikinya Traditional Dance Festival.
Luyanduhlobo Makwati Own correspondent
The annual festival, organised by the National Arts Council of Zimbabwe (NACZ), seeks to promote traditional dances in primary schools nationwide. In a statement NACZ marketing officer Catherine Mthombeni said they were happy with the gesture shown by the renowned academic.
"The trophy has been named the Professor Hope Sadza Trophy for Outstanding Common Dance Performance. We are happy about this gesture and we hope that it will go a long way in developing this festival for us," Mthombeni said.
This trophy will be up for grabs in the 2013 traditional dance festival, likely to be held in November after the Grade Seven final examinations. Jikinya Traditional Dance Festival has become one of the most prestigious events on the arts calendar, where students drawn from various schools perform traditional dances.
Over the last three years, NACZ has introduced a system whereby a specific dance is selected as a festival piece that runs for two years and is judged as a common dance.
The common dance was introduced so that all participating children, despite their regions, could learn, perform and appreciate diverse Zimbabwean cultures.
The first common dance piece 2011 and 2012 was amabhiza commonly performed by Kalanga people of Matabeleland South Province.
Jikinya Traditional Dance Festival common dance this year will be the jerusarema mbende dance. The dance was proclaimed a Masterpiece of Oral and Intangible Cultural Heritage of Humanity by the United Nations Educational, Scientific and Cultural Organisation.
Its origin is in Murehwa and Uzumba-Maramba-Pfungwe districts of Mashonaland East Province.
Matjinge Primary School from Plumtree were the national  winners of the 2011 Jikinya Traditional Dance Festival.