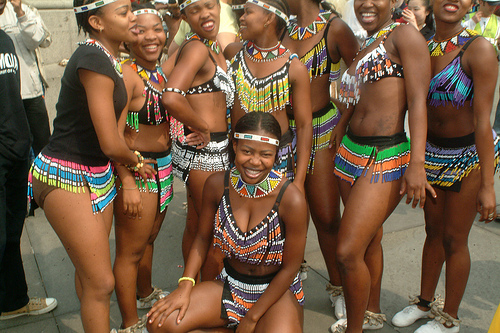 South African television, music, soapies and shows like Generations, Isidingo, Scandal, South Africa Has Got Talent, Clash of the Choirs, Big Brother Africa, Friends Like These, Fear Factor, Oskido, Dj Tira, and Dj so and so, you name them, abound in Zimbabwean homes! Report by Nkululeko Innocent Dube
These are sweet music and entertainment to any Zimbabwean. These are real entertainment and entertainers, but the question I ask today is really mischievous. Call me the devil's advocate if you like, but is the South African entertainment industry really a good role model for Zimbabwean people and artistes?
Save my soul! I am not about to glorify ZTV and ZBC . . . I never know which one embraces all of them, but that's a topic for another day. Zimbabweans, especially those from Matabeleland and Bulawayo in particular, have been accused of thinking they are South Africans and aligning themselves more with South African music and entertainment at the expense of local art, entertainment and artistes.  Even the new generation of artistes have obliged and started to either flock to South Africa to produce their work and sing like them,  talk like them, dress like them, be them, just to win back the love of their own people.
If you can't beat them join them, so goes the old adage, but is it always the means to a good end?
To be honest I cannot completely blame the masses for endearing themselves with SABC because the programmes are world-class.
My question and worry though is about the content in their programmes of late.
 Whose story does the South African entertainment industry tell? Are they championing the South African or African legacy? Are the soapies that we watch day-in-day out real South African day to day life?
  I know many young people who left for South Africa on dabulap express hoping to come back and tell stories about how they lived poshy lives like the Sibusiso Dlomos and Queen Morokas and other soapies they watched on television.
They hoped to spend weekends at bashes and huge swimming pools with Big Nuz, Oskido and the many stylish Djs they love.  Alas Hilbrow, Yeoville day-to-day struggle in restaurants brought them to reality. Life in SA's black boxes and music videos is not exactly a reality, but a mirage. I must note, however, that shows like Intersexions and Isibaya have been closer to who we are.
  When children began to break each other's necks and limbs after watching wrestling on TV a warning was introduced: "DO NOT TRY THIS AT HOME." Maybe the same should be done on some of the programmes and soapies: Do not attempt this lifestyle . . ." something like that. To be honest we are watching localised American and European life. Call me old school if you like but, I think South Africa is losing the plot somehow.
Slowly it seems to be an embarrassment to play traditional music in South Africa and Africa in general. Bubble-gum music whose tastes lasts a few months has become a trend.
There used to be a 30-minute show on Sundays, Roots which was struggling for sponsorship and slotted at a very odd time —  6:30pm — and that was all. Why are less and less of South Africa's musicians now making it big internationally? Soweto Gospel Choir is doing well?
Umoja is doing well and it's all because of playing traditional music from South Africa. The list though is dwindling with many of them preferring the latest American style, make your money fast music that expires in no time. I have no qualms with that.
Entertainment has become so commercial, but what is better to make money now and to make it for many years to come?
Believe it or not the legends like Hugh Masekela, Sipho Hotstix Mabuse, Miriam Makeba, Ladysmith Black Mambazo and many more that are still alive are still raking in a lot in royalties up to date. The world is getting obsessed with reality TV shows whose reality has never been real to me. I think we all risk losing ourselves to American and European trends. For every American programme or show there is an African version: America Has Got Talent — Strictly Come Dancing, — Dance your butt Off — Fear Factor, The Bold and The Beautiful — Fear Factor — Big Brother  Africa, among many more. All we do is add the word Africa or South Africa or Zimbabwe to the title and we call it ours.
Can we beat the Americans at their own game? Can we ever breakdance, hip-hop, R&B than them? Why not do the Imbube and maskandi that we know they can never even attempt? Why not make those the in-thing? Fellow countrymen and artistes!
  Do not try to be an apple if you are a banana because you will always be a second-rate apple.
Zimbabwe has once again been robbed of a talented musician who by every right was a legend of her time. Chiwoniso Maraire may your blessed soul rest in peace! Your legacy will live forever.