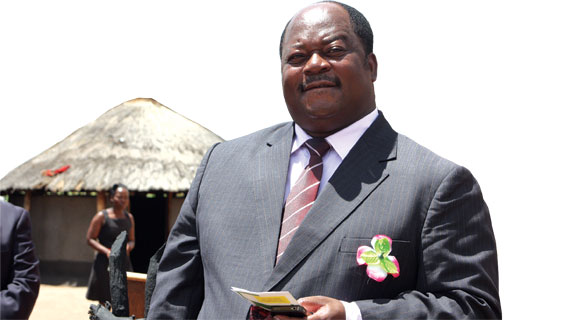 ZANU PF has since independence perennially performed badly in the Matabeleland provinces.
NDUDUZO TSHUMA/NQOBILE BHEBHE/RICHARD MUPONDE
Save for a brief period in the 1990s, after the signing of the Unity Accord, President Robert Mugabe's party has found the country's south-western provinces a tough nut to crack.
However, as they say, even the darkest cloud has a silver lining, Zanu PF has a few constituencies where it has performed well in the past and it hopes to do so again.
These include Beitbridge, Insiza North and Umguza.
This week, we visited the constituencies to find out why they back the trend and continue to vote for Zanu PF when the rest of Matabeleland votes otherwise.
Beitbridge East
The Home Affairs minister Kembo Mohadi has always been a popular choice in this constituency, since he bravely stood up to represent Zapu at the height of Gukurahundi in 1985.
In some constituencies, candidates were being killed and Zapu was finding it hard to get people to represent it and up stepped Mohadi, who has been a parliamentarian since then.
However, in recent days Mohadi has been accused of instilling fear and intimidating constituents in voting for him.
Mohadi is involved in a messy fight with some Beitbridge farmers who accuse his family of trying to bully them off their land and the matter has been taken to the courts.
In other high profile cases, the Home Affairs minister has been accused of muscling his way into some companies that operate within the constituency.
Despite all the accusations, Mohadi remains popular in Beitbridge, as he seems to be always in touch with the grassroots.
Zanu PF supporters in Beitbridge East have vowed to continue their support for the legislator, saying he had attended to their problems and given them immense help when the area was hit by floods early this year.
Speaking to Southern Eye in separate interviews, some of the villagers said they will rally behind Mohadi for another term, as he was not only a local person, but was useful to them.
Cephas Lamola from Lamashangali area said Mohadi had assisted the community with a number of self-help projects. "He works for his people," he said. "He has assisted us with setting up cattle-rearing and agricultural projects that have been of so much benefit to the people.
"I personally will vote for him again because he is the kind of leader we want."
Mary Ngulube from the same area said Mohadi came in handy assisting people to access maize under the grain loan scheme and had paid school fees for children from less fortunate families.
"When the floods hit the area, he was visible on the ground offering assistance to the villagers and that touched many hearts," she said.
Wilson Chauke another Zanu PF activist from Lutumba area said Mohadi had set up a number of schools in the area during his time as a legislator.
"Even when children fail to get placements in schools, he intervenes and makes sure that they get places," he said.
"He is a local person meaning that he has better understanding of the issues affecting the people here and the people know him."
William Tshabalala supported Chauke adding that Mohadi was a "hands on" person who made time to attend to people's problems.
Agnes Moyo said some of the benefits of having Mohadi as a legislator were that he had ensured that every child in the area had the correct documents.
"Every child here has a birth certificate," she said. "Everyone has national identity cards because of the assistance obtained from Mohadi.
"What we want, however, is a clinic here in Lutumba and another secondary school."
In the last elections, Mohadi won the seat by a large margin, receiving 4 741 votes against 2 194 for Siphuma Muranwa of MDC-T.
Mpofu's deep pockets boon for Zanu PF
Umguza
While the people of Umguza benefited from the land reform programme — which they say they want to defend — ironically, most of them still receive food aid.
Mines minister Obert Mpofu, the legislator for the area, has been a regular visitor in the area, doling out lots of food and seed in an area that should be self-sufficient if the success of the land reform is to be believed.
With the coming elections, villagers in the area say they will vote to protect their land amid allegations that Mpofu has gone on a vote-buying spree, flaunting his wealth at every given opportunity. Mpofu is one of the few candidates in the party confident of winning elections in Matabeleland provinces.
During a recent visit to the constituency last week, villagers said although they were facing hardships, they would not accept reversal of the land reform.
"We are voting to defend our land," Sipho Ndlovu said.
"(Prime Minister Morgan) Tsvangirai is always threatening to reverse land reform, but many of us have made vast improvements on the land allocated to us."
Another villager described Umguza as a no-go area for other political parties.
"Have you ever seen or heard Tsvangirai addressing a rally here?" she asked. "We will not allow traitors, people who want to destabilise the resettlement areas by giving back land to the whites." However, other villagers said although they were voting for Zanu PF because of Mpofu, they preferred a leadership change in the party which they felt was neglecting the area.
"Mpofu alone cannot spearhead development," a villager from Ward 9, who declined to be identified, said.
"The government has neglected this area, we want leadership change in the party."
Mpofu is seeking re-election and is heavily tipped to clinch the seat.
The former Matabeleland North governor lost his seat in the 2000 elections and this served as a wake-up call, as he regained it five years later.
Mpofu has had run-ins with the present governor Sithokozile Mathuthu, with rumours that they were clashing for control of the province.
Fear, land keep Langa in Parliament
Insiza North
IN 2002 Zanu PF rolled out its machinery and literally camped in Insiza North, as they hoped to wrest a Matabeleland constituency.
High profile rallies were organised, with Mugabe addressing them following the death of MDC-T MP George Joe Ndlovu.
The Insiza North poll was tied to his own presidential one. He had seen his party's majority slashed in Parliament and he needed all the votes he could muster.
Legislator Andrew Langa was a beneficiary of this largesse, as he sprung from being a virtual unknown to prominence — and his profile grew.
Langa has since quashed all competition to cling onto the seat, winning twice in 2005 and 2008. His supporters expect that he will romp to victory again.
But it has not been smooth sailing for the Zanu PF Matabeleland South chairman, as he won a closely contested battle against Qhubani Moyo of the MDC in 2008 and the battle lines have once again been drawn between the two.
But Langa's staunchest supporters say they will vote for him again, as they say this will be a vote to defend the farms they were allocated during the land reform programme.
They fear that if Langa were to lose, then their farms may be repossessed with the winning candidate reversing the "gains of the land reform".
Parts of Insiza North are resettlement areas and the beneficiaries of the land reform feel their own fortunes are tied to Zanu PF's continued stay in power.
Villagers in the constituency said they will make sure that Zanu PF wins with the highest votes in Matabeleland.
"Since we moved from the communal areas, our lives have changed for the better," Jealousy Damu, a beneficiary of the land reform programme, said.
"What we have in the farms we owe to Zanu PF. Therefore, we will vote for Zanu PF to protect our farming interests and also as gratitude for empowering us."
Patricia Nkomo, another beneficiary of the land reform programme, said they had benefited a lot from projects initiated by the party in the farms.
"Zanu PF is people-oriented," she said. "We benefited a lot from poultry projects, which were initiated by the party in our constituency.
"A lot of women projects were also introduced to help women so that they could sustain themselves. If you take this into consideration, you will see the reason why we keep voting for the party."
Richard Nyoni from Killan Village said he always votes for Zanu PF because it was the party he knew had brought independence. "Which other parties can you vote for other than the one that brought us freedom?" he asked.
"For that reason I will continue voting for this party and it will win these coming elections resoundingly."
War veteran Jabulani Petshu Sibanda, Langa's campaign manager, said Zimbabweans had discovered that MDC-T has made false promises and they will therefore vote for Zanu PF.
"We are not only going to win Insiza North, but Malaki Nkomo is also going to take Insiza South from the MDC," he said.
But Langa is another candidate often accused of employing intimidation and violence in an effort to hold onto his constituency. There are reports that Langa's supporters intimidate other candidates and force them out of the constituency, a charge the legislator strongly denies.
Recently, the MDC claims its councillor Nqaba Masuku was forced into the mountains, as he fled Langa's marauding supporters.
The MDC candidate for the area, Moyo also claims he has received death threats and has reported the matter to the police.
When Southern Eye visited the area, it was very tense, with villagers suspicious of the news crew.
Most people were reluctant to talk and only seemed to find comfort in numbers.