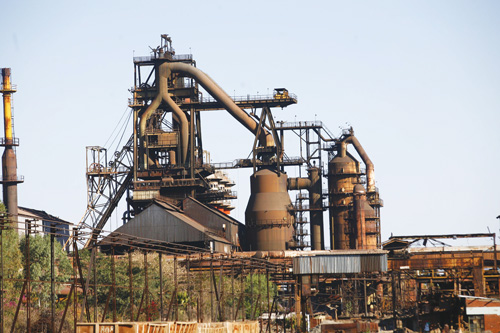 A TEAM from Essar Africa has been at New Zimbabwe Steel, formerly Ziscosteel, for the past two weeks as the Indian company steps up efforts to revive operations at the moth-balled steel giant.
Own Correspondent
Commerce and Industry minister Welshman Ncube confirmed the development and said the Essar team had been in the country for the first phase of rebuilding the plant, including the refurbishment of blast furnaces.
Resumption of  fullscale operations is expected in July next year.
"Production at New Zim Steel is expected in not less than 12 months from now," Ncube said. A team from the Industry and Commerce ministry was at the plant in Redcliff on Tuesday to also assess progress.
Ncube added that the visit was part of the routine check-up by the ministry at the currently defunct steel giant. Operations at Zisco stopped in 2009 as the company bulked under massive debts, lack of working capital and a host of other problems blamed on poor management.
The company's estimated 3 000 workers have not been paid since June last year.
In March 2011 the government and India-based investors agreed on a $750 million takeover of Ziscosteel, but the deal has not been consummated due to haggling over iron ore deposits.
The deal was first signed in August 2011 giving Essar 54% control of the new company New Zim Steel. As part of the deal, Essar was also awarded 80% ownership of New Zim Minerals with the government holding the remaining 20%.
The Indian company has, however, failed to commence operations after the government moved to reverse its decision on the grounds that the value of its iron ore claims should be verified first.
Zisco's $750 million takeover by Essar stalled over the transfer of mineral resources forcing officials from the India-based firm decamping from the Redcliff site and workers at the company going for months without pay.
The takeover of Ziscosteel by Essar Africa is reportedly now being co-ordinated by the Office of the President and Cabinet in a bid to bring closure to the multi-million dollar deal.
Zisco has the capacity to produce one million tonnes of steel per year and is currently reeling under debts, working capital and ageing equipment constraints.
The deal was one of few that the government embarked on to commercialise some of its parastatals, although it appears to have failed to live up to expectation.
Twitter feedback @mudarikirig