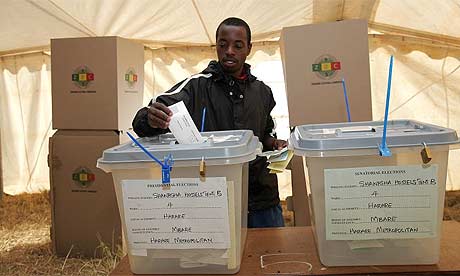 DURING the course of the previous week, a full bench of the Supreme Court sitting as the Constitutional Court (Concourt) unreservedly concurred that the earlier decision proclaiming July 31 as the latest date by which harmonised elections should be held was legally prudent and binding. This decision threw out as spurious, a number of appeals by some political leaders who sought more time to enable carrying out of reforms that would ensure free, fair and credible elections.
REPORT BY MASOLA WA DABUDABU
The learned judges felt that it was better to follow books of law even if there would be possibility of several broken bones and charred bodies during the period leading to elections.
The astute bench felt that Zimbabwe could deal with elections as a matter of urgency more than it needed vital reforms that could prevent the spill of blood of innocent citizens.
A layman attending a political meeting against his free will in the next few days is likely to declare that the law is more asinine than reasonable. One has to safeguard against sounding contemptuous towards the esteemed court by not insinuating that judges reek with some geriatric prejudice. We fully understand that judges are beyond reproach and that they act independently from the Executive (not that when they are invited for dinner by the Executive they shy away — they are humans after all).
Zimbabweans, friends and relative, the current state of affairs governing Zimbabwe's elections is a very dangerous one. The Concourt might have rubber-stamped what many fear as a possible internecine war. As always, no members of the judiciary will ever be indicted for allowing a dangerous situation to go out of hand when it was within their natural remit to prevent disaster from occuring.
From now on, those with degrees in violence may start the blood-letting, the carnage, the destruction and the bad-mouthing of their rivals. They may interpret decision made by our most learned men and women of law as giving them an unrestrained order to harm others as they wish. In true biblical prophecy, brother against brother syndrome might be with us soon. In the scriptures, the Gospel according to Matthew 10:21 warns: "Brother will deliver up brother to death, and the father hate his child. Children will rise up against parents, and cause them to be put to death."
Chilling and frightful as the scriptures say, time for the gnashing of teeth has finally come. Party activists are being drilled in the art of causing untold pain and suffering on perceived opponents.
Newcomers are being tested for callousness and for their willingness to go all the way in the name of some mortal. Spears and clubs are being polished for causing maximum pain. This is time for causing all bad boys, evil men and mad women to be seen moving some rungs up the ladder of cruelty.
Forthwith, the national radio stations have had their licences altered by default to allow them to broadcast hate speech, malicious rumours and vile threats. The national television stations will be hogged by the elderly leader who will be hailed as the only suitable and credible candidate. The State Press is gloating and drooling in anticipation of a dirty job. For the chief correspondent and news editors the prospects of reshaping the image of the elderly leader beckons. The elderly leader will be portrayed as a charitable officer and an understanding gentleman who has needs of the people at heart.
Achievements of the elderly leader — in their scarcity and paucity — will be magnified a thousand fold . . . million attendees at launch of party's manifesto, the resounding indigenisation programme, creation of land owners and fighting colonialism. Meanwhile, the so-called misdemeanours of progressive party leaders shall be falsified a million times over Rudhaka Stadium which can only accommodate 5 000 soccer supporters therefore the MDC manifesto launch could not have attracted more than 5 000 people, they are sponsored by the evil West, they did not receive a donation of one million T-shirts from China bla, bla, bla and bleat, bleat, bleat!
Only the creative genius of sadistic and psychopathic journalists can do what those journalists enrolled by the State-controlled media are infamous for. They will be competing in trading vulgarity and mendacity towards the political opponents of the elderly leader.
As the State media bleats unprintable abuse against the opposition, the rest of the State machinery will be working overtime for the elderly candidate and against the progressives, Police would be routinely frustrating opposition members by making them week-end residents in filthy cells on trumped-up charges. Persons behaving in a manner that is not in line with slogans, insignia and dress code of elderly leader's party will be harassed and persecuted by the partisan police. National army members will maintain menacing postures at every corner of the country. Guns will be fully loaded with armour piercing ordinance to deal with unarmed civilians who might be over-enthusiastic in not supporting the elderly leader.
The elderly leader will not only have government resources to his pleasure, our children in schools will be rounded up to attend campaign rallies. Their innocence will be used in sadistic fashion to boost crowd numbers. The elderly leader will dine in French cuisine at the top table whilset our children wallow in hunger and shiver from the cold weather condition or get scalded on their scalps by the heat.
It is rather morbid to continue reminding ourselves about the acts of the elderly leader's disciples . . . arson, beatings, lynchings, killings cajolling, insulting, demeaning and more! This is what Zimbabweans want to avoid. Prevention of violence is certainly better than curing its effects. Offering amnesty to faceless perpetrators is no longer an option. Zimbabweans would just want no violence during polls. The judiciary could have handed the people that dignity.
Perhaps these are pessimistic possibilities that are based on unfortunate events witnessed in previous elections. Since the elderly leader is a man who prides himself for having several degrees in violence, there is reason to suspect that violence will revisit us once more. Of course all these grim possibilities could have been avoided. What is needed, are a few good men and women on the hot legal bench to agree that the system is rotten and that it needs reforms. Unfortunately, Zimbabweans will go to polls in conditions similar to those of the 2008 harmonised elections. On those eventful polls, violence won the biggest prize of the land for the elderly leader. The worst that sustains our apprehension about free and fair polls this month is that 2008 was a confirmation of the productivity of violence to the elderly leader and his team.
Today he bubbles with confidence as his punishers are on standby for the signal to attack.
Zimbabweans, voters and sufferers, let's hobble to the polling station and exercise our universal suffrage . . . Hokoyo at the polling station!
 Masola wa Dabudabu is a social commentator