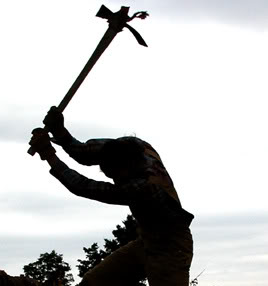 PRETORIA — A mechanic was sentenced to 12 years in prison on Wednesday for killing his three-year-old son with a pick-axe handle.
Report by Sapa
"In my view a sentence of 12 years imprisonment would be an appropriate sentence for the crime committed," Judge Nico Coetzee said in the High Court in Pretoria, SA.
"Therefore the accused (Vincent Mugwagwa) is sentenced to 12 years imprisonment."
The court found Mugwagwa (54) guilty on June 3. The court heard he came to the country after losing his job in Zimbabwe in 2010. His wife and four of their nine children later joined him. The other five are still in Zimbabwe. On June 11 last year his wife accused him of being unfaithful while she was in Zimbabwe.
The couple started to argue. He chased her and the children out of the house, and followed them to a neighbour's house, where he picked up a pick-axe handle and hit his youngest child, Wesley.
"The accused lost his temper and was emotionally unstable at the time he committed the murder," Coetzee said while handing down sentence.
Describing what happened from the court papers, Coetzee said the three-year-old boy ran to his father. Mugwagwa hit him on his head several times. He called an ambulance and reported the incident to police himself. The boy died in hospital three days later.
"He described the incident, saying things got out of hand," Coetzee said.
During court proceedings earlier this year Mugwagwa said: "I don't know how it happened. I did not believe it when they told me I was going to be arrested. . . I don't have an explanation for what I did that day."
Coetzee said Mugwagwa's wife of 29 years, Dorica Chipeta, had forgiven him. She pleaded with the court not to send him to jail because she and the children needed his financial support.
The children were currently not in school because she could not find work.
"His wife had forgiven him for what he had done. She said he was a loving and caring father and husband. He had a very close relationship with the children and they wanted to see their father. She had forgiven him. The children had forgiven him," Coetzee said.
Murder in South Africa would continue and not decrease unless perpetrators were harshly punished, he said. Mugwagwa's age, the fact that he was a first offender, and that he showed remorse, were taken into account for sentencing, Coetzee said.
Earlier, social worker Yvette van Schalkwyk said: "Mugwagwa is not a person who has a pattern of being aggressive.
"If we look at the circumstances at the home, I've got great empathy for the mother and the children."
Van Schalkwyk was presenting a probation officer's report ahead of sentencing.
She said she conducted a house visit and it was difficult to talk to the children.
Chipeta, however, helped her speak to two of their nine children.
"The children enjoy his company and often pray with him," she said.
"I've spoken to the correctional officer. He is illegally in the country, therefore he can't be placed under correctional supervision . . . His documents (have) expired."
Mugwagwa, dressed in black pants, black T-shirt and a dark grey jersey, sat quietly in the dock watching Coetzee and occasionally looking down. Chipeta sat in the second row of the public gallery and stared blankly ahead.