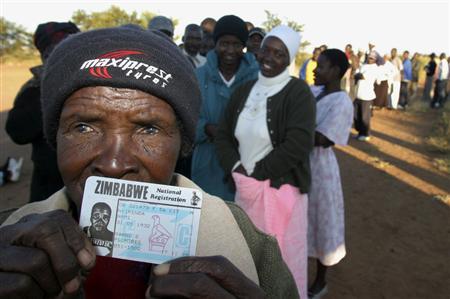 WHILE for many having a birth certificate and a national identity document is considered a given, the on-going voter registration exercise has revealed that scores of people have never bothered to acquire such documents.
Report by Blondie Ndebele
A visit to a voter registration site at Robert Sinyoka yesterday revealed that a number of youths from the settlement and neighbouring Pumula did not have requisite documents and hoped to use the registration exercise to obtain them.
A 34-year-old woman from Pumula South, Thobekile Dube, said she had never had a birth certificate before, though both her parents are still alive and lived in South Africa.
"The registry officials said they want a birth record and a health card for me to get a birth certificate or I should come with my parents," she said. "I was born at Mpilo Central Hospital and I went there to obtain the birth record.
"When I got here this morning, they said I should bring a health card which I do not have. I guess I will spend the whole of my life without the documents." Dube said she had visited the registry offices on several occasions and had failed to get a birth certificate because she failed to produce the required documents.
Mduduzi Tshabalala, a 25-year-old resident of Robert Sinyoka, said he did not have a birth certificate and was trying his luck. Both his parents died before they could acquire the document for him. He said he was living a normal life and had never done anything which needed identification documents.
"I want to take a birth certificate so that I can get a national identity card. I have never been to school and I have never done anything that requires documents," he said.
"I came here because I heard that they issue the documents, otherwise I would not have gone to queue at Msiteli registry for a birth certificate."
For Rosina Moyo from Pumula suburb, said the mobile voter registration was an opportunity for her to get a birth certificate for her 17-year-old daughter who has never attended school because she (Rosina) could not afford to take her to school or get her the documents.
"Her father died while she was very young. She is now an old woman and does not have a birth certificate," she said.
"We really appreciate that these people are here to help us, but they are making things difficult as they keep asking for papers that we can't even produce."
Sofie Sibanda (57), who was also looking forward to acquiring identity documents, said all her particulars, together with those of eight other family members, were burnt last year during a fire that gutted her house.
"If I get a birth (certificate) and an ID, I will help my children to get the documents too because things have been really hard," she said. "Some of my children failed to go to school this year and we cannot live a normal life without those."
Most people said they took the initiative to visit the registration centres after being told they would be able to obtain relevant documents without having to go to the provincial registration offices.