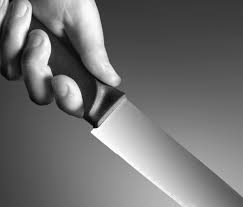 A 24-year-old Mberengwa man is a battling for his life after he was stabbed all over the body in a dispute involving a commercial sex worker.
Report by Stephen Chadenga
Anthony Shumba of Takawira village, Chief Matarutse, was stabbed on the head and back several times by the suspect, Melusi Shumba.
Provincial police spokesperson, Inspector Emmanuel Mahoko confirmed the incident and said a manhunt for Melusi had since been launched.
"Police are looking for Melusi Shumba, a suspect in a case of attempted murder," Mahoko said.
"Any members of the public with information on his whereabouts should please approach any nearest police station."
Mahoko said on Sunday Melusi and Anthony were at Musipa tuckshop in Zvishavane, when they had an argument over a girlfriend.
Melusi is alleged to have stabbed Anthony and he sustained a deep cut on the head and on the back before being rushed to Zvishavane to Hospital.
He said Melusi accused Anthony of being with his girlfriend all the time and an argument ensued before the former produced a knife and stabbed the latter.
He fled from the scene and has been on the run ever since.