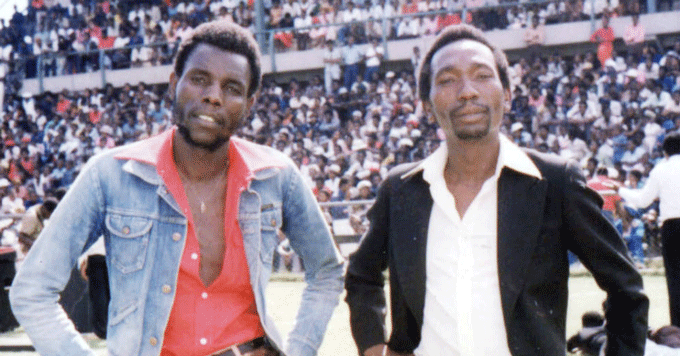 By Fred Zindi
Shepherd Moyo, a Zimbabwean DJ based in Pretoria, South Africa came to me the other day  and asked for vynil records of yester-year musicians such as Leonard Dembo, Thomas Mapfumo, Pied Pipers, Sungura Boys,  Safirio Madzikatire, Paul Matavire, Harare Mambos, Alick Macheso, System Tazvida, Khiama Boys, Tongai Moyo, Leonard Zhakata, Chioniso Maraire, Susan Mapfumo, Pengaudzoke, Comrade Chinx,  Oliver Mtukudzi, Fanyana Dube, John Chibadura, James Chimombe, Simon Chimbetu, Solomon Skuza, Zexie Manatsa and the Green Arrows, Tinei Chikupo, Sungura Boys, Tairos Tendaupenyu, Mandebvu, Four Brothers and Robson Banda.
I asked him why he was interested in old music instead of new music coming from today's artistes such as  Nutty O, Tocky Vybes,  Shinsoman, Jah Master,  Empress, Mbida D. Kinnah, Seh Calaz,  Bazooka, Poptain, Killer T., Freeman, Enzo Ishall and so forth. His answer was simple and straight forward. " Most of today's music has no depth. It does not even reflect our culture. You see the new musicians have run away from their culture. They do not even use their own names to identify themselves. Look at the names  of artistes you have given me. Why are they running away from their real names? Do you think that Wallace Chirumiko's parents ever thought that their son will one day be called Winky. D? In Pretoria, we have started a Zimbabwean vynil music club and we get together every Saturday to appreciate our culture through listening to old school Zimbabwean music."
With classic songs like Chitekete, Samatenga, and Mudazvevamwe  still resonating in the minds of old school lovers, Zimbabweans still reminisce about old school music.
From Oliver Mtukudzi alone, listen to songs like Todii, Mutserendende, Ndagarwa Nhaka, Bvuma Wasakara, Mabasa, Ndakuvara, Pindurai Mambo, Ndima Ndapedza, Mbabvu Yangu, Tozeza Baba and many more. These reflect our deep cultural impact and show us that Tuku was not only a great composer, but also a deep cultural thinker.
Now compare  these to modern popular songs like Shinsoman's:  Tasangana Zvidhakwa. Hamusati Mationa Isu Takadhakwa, or award winning  Nutty O's:
Ndange ndichingovabaya baya
Neni vanoona faya faya
Ahhh handipere power huh huh.
These songs are quite popular to modern youths but when you analyse them you will notice that they have very little depth. More songs in the same vein include: Takuita So, Bhurugwa, Handina Sunda, Musandidherere ,  Suduruka, Musarova Bigman, Love Yemusoja, Ita Seunononga, Tiri Kumhanya, Mawayawaya, Kumba Kunouya Kuno and Gum Kum.
Tuku's songs have cultural implications. They teach us about all aspects of African culture such as unity, love and harmony. What have we to learn from the latter songs?
The government should take culture with its social impact seriously. They should respect music composers and give them their due respect. Once respected, the musicians will take their time to compose songs with deep meaning. They will also learn how to take their craft seriously. That way the Zimbabwean culture will go to a higher level.
Indeed culture plays a central role in creating and enabling sustainability,  influencing the human, social, and economic sides of development. Yet,  the cultural aspect of development is too often ignored or side-lined in government policies and strategies. The impact that culture can make on generating sustainable economies, societies and systems of governance is  underestimated or not even taken into account. Culture needs to hold a stronger place in the implementation of the current global development agenda.
How can culture and sustainable development be better integrated?
Government should include and prioritise culture in the efforts to build a more sustainable world.
We believe that neglecting culture will go to the detriment of the economic, social, and environmental dimensions as well.
Recently at a supermarket in town I encountered a youngster at the cash register  who was singing along with  Nutty O's Ndange Ndichingovabayabaya.  Neni Vanoona Faya Faya Ahh Handipere Power.
I asked her: "What is the meaning behind that song?" She looked at me in surprise before answering: "Oh,  I don't know what it means but I just  like the song."
Never before in history have new tracks attained hit status while generating so little cultural impact. Success was always short-lived in the music business, but now even new songs that become bona fide hits can pass unnoticed by much of the population. Ask music lovers under the age of 30 about Nutty O's song  and they will all say that they love it, but if you ask mature adults over 40 they will tell you that they have never heard the song.
Only songs released in the past 18 months get classified as "new", so people could conceivably be listening to a lot of two-year-old songs, rather than 60-year-old ones. But I doubt these old playlists consist of songs from the year before last. Even if they did, that fact would still represent a repudiation of the pop-culture industry, which is almost entirely focused on what's happening right now.
I can understand the frustrations of music lovers who get no satisfaction from current mainstream songs, though they try. I also lament the lack of imagination on many modern hits.  I listen to two to three hours of new music every day, and I know that plenty of exceptional young musicians are out there trying to make it. They exist. But the music industry has lost its ability to discover and nurture their talents.
Every week I hear from hundreds of publicists, record labels, band managers, and other professionals who want to hype the newest new thing. Their livelihoods depend on it. The entire business model of the music industry is built on promoting new songs. As a music writer, I'm expected to do the same, as are radio stations, retailers, DJs, nightclub owners, editors, playlist curators, and everyone else with skin in the game. Adding to the nightmare, dead musicians such as Mtukudzi, Dembo and Matavire are now coming back to life in virtual form — via holograms and "deepfake" music — making it all the harder for young, living artistes to compete in the marketplace.  Many radio listeners today are being subjected to old school music and they seem to love it.
One new artiste, Mwenje Mathole, whom I introduced to Mtukudzi before he died in 2019, said to me the other day: "Prof, can you help me to get my music played at the radio stations? I know you have connections at Star FM, ZiFM. and at ZBC. I am not sure why these DJs keep playing this old music on these stations when we young people have come up with the latest and newest scorchers".
I jokingly responded by telling this artiste to apply for a radio licence from the Broadcasting Authority of Zimbabwe and start his own radio station. I was being sarcastic. I gave him names of my contacts at the radio stations and I am pleased to notice that his music is now being played on radio, now competing with the old music.
Radio stations are caught up in the same time warp. In the 1990's and early 2000s era, radio stations aggressively marketed new music, but now they seem to like to play old school music.
Radio stations are contributing to the stagnation, putting fewer new songs into their rotation, or completely ignoring new music in favour of old hits.
As record labels lose interest in new music, emerging  and frustrated artistes desperately search for other ways to get exposure. They hope to place their self-produced tracks on a curated streaming playlist, or license their songs for use in advertising or upload them on You Tube. Those options might generate some royalty income, but they do little to build name recognition. You might hear a cool song on a TV commercial, but do you even know the name of the artiste? You love your workout playlist at the health club, but how many song titles and band names do you remember? You stream a Spotify new-music playlist in the background while you work, but did you bother to learn who's singing the songs?
Yet all the evidence indicates that few listeners are paying attention.  Some would like to believe that this trend is just a short-term blip, perhaps caused by the coronavirus pandemic. When clubs open up in full swing again, and DJs start spinning new records at parties, the world will return to normal, or so we are told. The hottest songs will again be the newest songs. I'm not so optimistic.
Moyo and other Zimbabweans aged 40 and above have resorted to old music mainly due to its cultural impact. It has a reflection on their lives.
Even so, I refuse to accept that we are in some grim endgame, witnessing the death throes of new music. And I say that because I know how much people crave something that sounds fresh and exciting and different. If they don't find it from a major record label or algorithm-driven playlist, they will find it somewhere else. Songs can go viral nowadays without the entertainment industry even noticing until it has already happened. That will be how this story ends: not with the marginalization of new music, but with something radical emerging from an unexpected place.
Related Topics