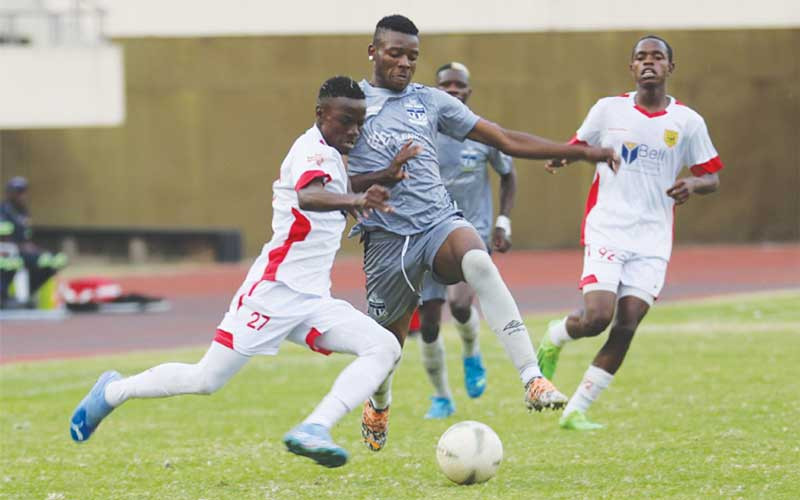 BLACK RHINOS . . . . . . . . . 0
NGEZI PLAT STARS . . . . . 0
TITLE-chasing Ngezi Platinum Stars missed the opportunity to go top of the league table after they were held to a goalless draw by a determined Black Rhinos in a lively midweek match at the National Sports Stadium yesterday.
Victory could have taken the Takesure Chiragwi-coached side back to the top of the standings, but had to settle for a point which kept them on third position.
On reflection, the youthful coach will know his side got away with it after Rhinos hit the post an extraordinary four times.
Migos Svinurai hit the woodwork three times while Tatenda Mchisa was also denied by the post as the army side, well marshaled by a magnificent Allen Gahadzikwa, were denied a deserved win.
Chiragwi was under no illusion that, on another day, it could have been a very different result.
"It was a very difficult game," Chiragwi admitted.
"We lost it on (lack of) aggression, and nothing else. They (Rhinos) were very aggressive and we couldn't match them. If we could have done better in terms of aggression, we would have won the game because we had some brilliant moments that were supposed to carry the day but unfortunately, we couldn't manage to do that. A point is better than nothing, it will add something on our tally. It's tough luck for us today but happy that we didn't lose the game and we also didn't concede which is another positive for us as a club."
Next up for Chiragwi's men is a tough platinum derby against defending league champions FC Platinum at home, a clash that headlines the weekend fixtures.
For Rhinos, this draw also did very little in terms of movement on the log table.
They, at least, moved from the bottom of the log table, above fellow army side Cranborne Bullets.
Rhinos now have six points from their opening eight fixtures, one above Bullets who returned to the basement.
Stix Mutizwa who was 'promoted' to the post of technical advisor in a recent reshuffle by the club in reaction to the poor start to the campaign, took charge of yesterday's match as new gaffer Saul Chaminuka, who watched the match from the stands, is yet to be accredited. Mutizwa felt Rhinos were just unlucky yesterday.
"We were fighting for a win and it's clear with the way the guys played, hitting the crossbar several times," a frustrated Mutizwa said.
"The strike force is the area where we are mostly worried about. We are working very hard to make sure that we score goals. The boys played very well, we were on top in terms of possession but we couldn't score. We need to put more effort in scoring drills."
Teams
Black Rhinos: P Chirimanyemba, D Mutimuzunze (S Chikwerengwe, 87'), V Katsande, T Mchisa, A Gahadzikwa, M Mahodobi (P Mukombwe, 65'), N Mwasanga (G Dematsika, 75'), P Milanzi, G Saunyama (T Matongo, 75'), M Svinurai (P Gweva, 75'), C Nyakope
Ngezi Platinum Stars: N Chadya, K Chigwida, G Madhake, F Madhanaga, C Mapoka (T Musariranwa, 46'), M Mukumba, Q Amini, W Vuwa (M Gaki, 77'), L Kashitigu, T Benhura (M Mukuwe, 77'), N Makumbe (T Mandinyenya, 67')
lFollow Henry on Twitter
@henrymhara
Related Topics