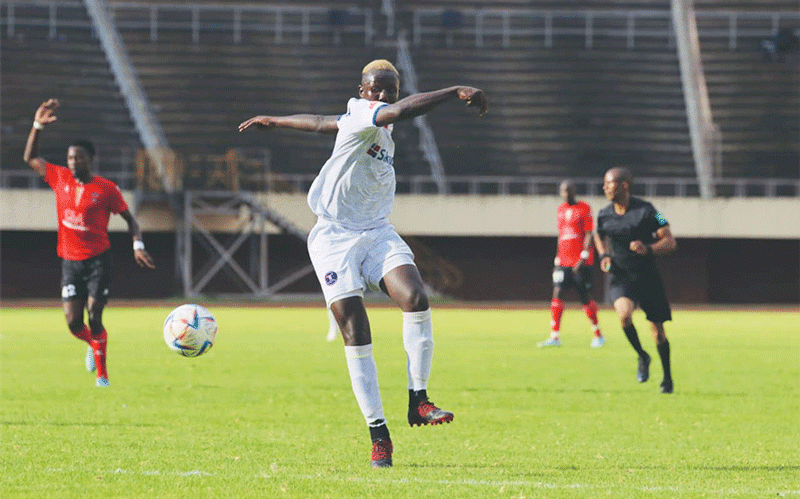 DYNAMOS . . . . . . . . . . .. . . (3) 4
SHEASHAM . . . . . . . . . . . . . . . . 0
DYNAMOS yesterday issued a clear reminder of their title aspirations when they hammered a hapless Sheasham at the National Sports Stadium to move to the top of the league table.
A scintillating first half display saw the Herbert Maruwa-coached side rack up the biggest victory of the season so far.
In truth, DeMbare could have had far more than their four goals given their dominance especially in the first half when they repeatedly ripped through the visitors' defence.
The two opening goals were gifts delivered by defender Zivanai Chikwenhere who beat his own goalkeeper Liberty Chirava three minutes into the match and again on the half hour mark.
The goals continued to flow as Dynamos captain Frank Makarati converted from the penalty spot on 34th minute after Arnold Dirau had fouled Tendai Matindife inside the box.
DeMbare's last season top goalscorer Emmanuel Paga put the icing on the victory with a simple tap on 84th minute following a pinpoint delivery from substitute Eli Ilunga.
The victory put Dynamos top of the log with six points from two matches, dislodging champions FC Platinum on goal difference.
Sheasham, on the other hand, slipped to 14th position with one point which they picked from their goalless draw against Chicken Inn last week.
Maruwa had on Thursday warned his players against complacency against a Sheasham side that showed a lot of gritty on their maiden league appearance last week, but this turned into an extremely enjoyable afternoon for the DeMbare coach.
"It was a massive game, we managed to get an early goal which eased some nerves," Maruwa said.
"They (Sheasham) had a game plan. They congested the midfield, so we realised that and we started by-passing the area. So they ended up making a lot of mistakes at the back and we capitalised. So far so good, we are taking one game at a time," added Maruwa who also thanked the Dynamos supporters who came in their numbers to support the team.
"It's good for our football when you see fans coming back. Now we need to make sure we play good football to entertain them."
Sheasham, meanwhile, were left to lick their wounds because there were no positives for them to take away from the match.
They did at least improve in the second half but then the contest was already long over.
The Gweru side was extremely toothless throughout the match. They didn't have a single shot on target the whole match, leaving coach John Nyikadzino disappointed. The veteran coach said his charges appeared to suffer from stage fright.
"Obviously losing four nil is disappointing for me as a coach. We have to work on the psychological part of our players in terms of managing the 12th man (supporters). We were not in it from the first whistle. In the second half we did better and had we played like that in the first half, it was going to be a different ball game altogether. I'm very much disappointed especially with the way we conceded. We were making silly mistakes at the back.
"But congratulations to Dynamos, they showed they really wanted it more than us. I knew this was a tough match playing them especially with the form that they are in. But I didn't expect such a big scoreline."
The tone was set in the opening three minutes when Chikwenhere turned the ball into his nets inside a crowded box from a Tanaka Shandirwa corner kick. And from there to the end of the first half, the home side was simply relentless.
After taking the lead, Dynamos continued to create chances although Nyasha Chintuli, making his debut for the Glamour Boys, and Emmanuel Jalai missed good chances early on.
If the first own goal was unfortunate, the second was comical for Chikwenhere.
The defender, under pressure from Paga, lobbied his badly positioned goalkeeper Liberty Chirava with an attempted back pass.
The "Siyanai nayo DeMbare" rendition from a sizeable Dynamos crowd that came to watch the match had barely died down when Dirau hacked down Matindife inside the box and referee Brighton Chimene, who also awarded Rhinos a penalty against Cranborne Bullets last week at the same venue, pointed to the spot.
Makarati cooly converted. It was game over.
The visitors briefly threatened when Nigel Mpanduki's powerful shot was deflected over the bar as they looked to respond.
Dynamos engaged in game management mode in the second half, but Paga managed to wrap up the scoring with six minutes remaining when he timed his run well to meet a cross from Ilunga past the exposed Chirava.
Teams
Dynamos: T Mvula, F Makarati, E Moyo, K Moyo, T Shandirwa (J Makunike, 70'), A Musiiwa (T Makanda, 52', (E Lunga, 70'), D Mudadi, E Jalai, T Matindife (A Sadiki, 52'), E Paga, N Chintuli (D Mukamba, 60').
Sheasham: L Chirava, A Dirau, Z Chikwenhere, T Macheka (P Madhazi, 68, R Useni (K Matake, 46'), L Jani, P Shoko, D Mangesi, T Chidhobha, N Mupinduki (T Marire, 68'), L Masveure.
Related Topics