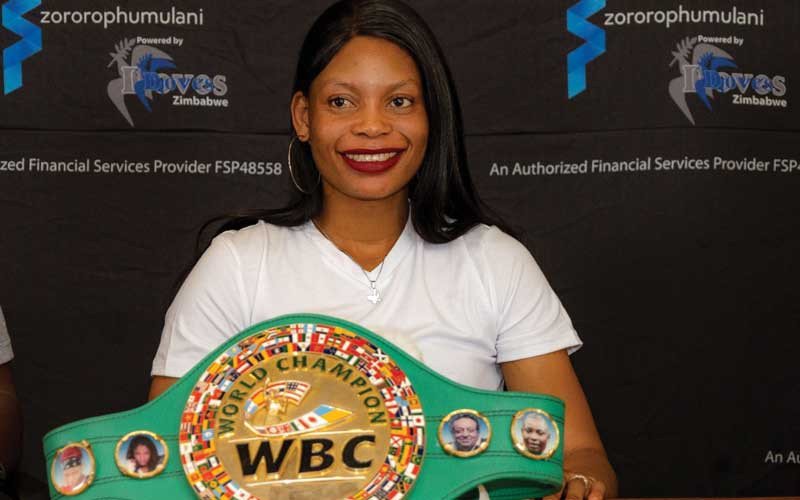 Growing up, all Kudakwashe Memory Chiwandire dreamt of was to don the gold and green Mighty Warriors — the Zimbabwe female national soccer team kit and represent the country at the highest football stages.
She started playing football as early as in Form One and featured for premier league sides such as Sharp Shooters and eventually ending her career at Cyclone Queens.
A footy star, she thought she was, but couldn't break into the senior national team, forcing her to hanging her boots for boxing gloves.
"I was a hard worker, playing and wishing I could make a break into the national team but they would always pick the same ladies into the national team. At the age of 16 I felt like football was not for me and decided to quit football for an individual sport, which requires self-motivation and individualism to succeed," she said.
Take Money made the country proud a fortnight ago when she lifted the World Boxing Council Super-bantamweight interim championship belt after defeating Zulina Munoz of Mexico at the Harare International Conference Centre.
Like her moniker, Chiwandire is now taking money, for the win she received US $20 000 purse money from the government, on Monday she also received US$2000 from Zororo Phumulani, which is powered by Doves.
Zororo Phumulani was honouring the pledge they made before the match, they had pledged to give Chiwandire US$1000 for a win, and however at the handover ceremony they gave her US$2000.
In her six year long career, Take Money has succumbed to only one defeat on her professional debut in Zambia.
"I have only suffered one defeat from the fists of Barbra Banda in Zambia in my first ever professional match in 2016. I was under lots of pressure, fighting a three time world champion and my preparations were not so good due to financial issues.
"Unlike my last fight, I managed to prepare extensively, I had many people and corporates supporting me. I didn't waste much energy looking for money like my first fight, this time I was more focused on my training," she said.
Take Money, a mother of three — a five-year-old daughter and a set of two-year-old twins says her parents have been her greatest support system since her footballing days.
"My parents have been very supportive since the start of my footballing career. I have been through a lot as a young lady but they have been there for me and helped me not to throw in the towel. "When I had my twins, it was a torrid time for me and I contemplated quitting everything but my parents were there to gas me up. They encouraged me not to give up because sports is what I have and I am good at, they understood that it was going to be through sport that I keep myself sane and also be able to fend for my children," she said.
Related Topics