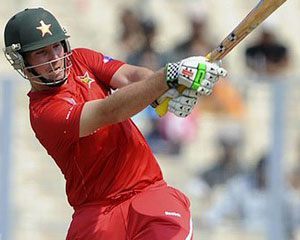 BY DANIEL NHAKANISO
The decision by former Zimbabwe cricket team skipper Brendan Taylor to retire from international cricket after the recent tour of Ireland has left the national cricket selectors and cricket board in a spin.
The 34-year-old batting stalwart and one of the country's finest ever cricketers, stunned the global  cricket fraternity when he announced his decision to call time on his 17-year career on Sunday evening ahead of Zimbabwe's final ODI against Ireland.
Taylor was given a guard of honour by his teammates during, the third ODI against Ireland in Belfast while his announcement led to an outpouring of messages of support from fellow Zimbabwean cricketers as well as some of the game's leading figures around the world.
Amidst all the emotional farewells, ZC, who under normal circumstances would have been the first to pay tribute to their long serving player, have been conspicuous by their silence on the retirement.
Informed sources at the local cricket governing body told Standardsport that Taylor's decision to retire from the game has left everyone surprised, more so the cricket governing body's board and selectors.
The source added that ZC will try to persuade Taylor to reverse his decision to retire from international cricket as they believe his experience and leadership will be pivotal to the country's hopes of qualifying for the 2023 World Cup.
ZC is, however, expected to face a difficult task as long as national team head coach Lalchand Rajput remains incharge.
Although Taylor did not give reasons for his decision to retire, he is said to have been fed up by the way he and other senior players in the side have allegedly been treated in recent months by Rajput and the selection panel headed by David Mutendera.
The wicketkeeper batsman is one of the senior players, who have been summarily pushed out from the T20 squad.
He was left out of the T20 squad for the five-match T20 series against Ireland which Zimbabwe lost 3-2 and is not part of the squad for the three match series against Scotland, which ends today with the decider.
So frustrated has Taylor been in recent months that he decided to retire even though he is now just 103 runs away from breaking Andy Flower's record and becoming the country's all-time leading run scorer in ODIs.
The decision taken by Taylor comes after Test skipper Sean Williams dropped a bombshell ahead of the ODI series against Ireland series after announcing his plans to retire and firing shots at Rajput before later reversing his decision.
While announcing his decision to retire prior to the end of the Ireland series, Williams indicated that Rajput's mishandling of affairs was one of the reasons behind him taking such a drastic step.
"'I can't see a way forward under coach [Lalchand] Rajput. The environment he has created in the team is bad.
"There is too much talking and backbiting, which creates mistrust," Williams revealed.
Rajput has had a disappointing stint as Zimbabwe head coach since his appointment in 2018.
The Chevrons have won only five of the 31 One Day Internationals (ODIs) they have played, which leaves them on course to miss out on an automatic World Cup qualifying slot.
Zimbabwe have not fared any better in the T20I under Rajput with the team managing 11 wins from 36 matches they have played.
The dismal results in the longest format as well as Zimbabwe have won only two of the 10 Test matches under Rajput's stint.
The Indian coach's contract runs its course at the end of this month and ZC is facing the dilemma of either backing their coach despite his poor results or letting him go and convince their former captain to continue his career.
Related Topics