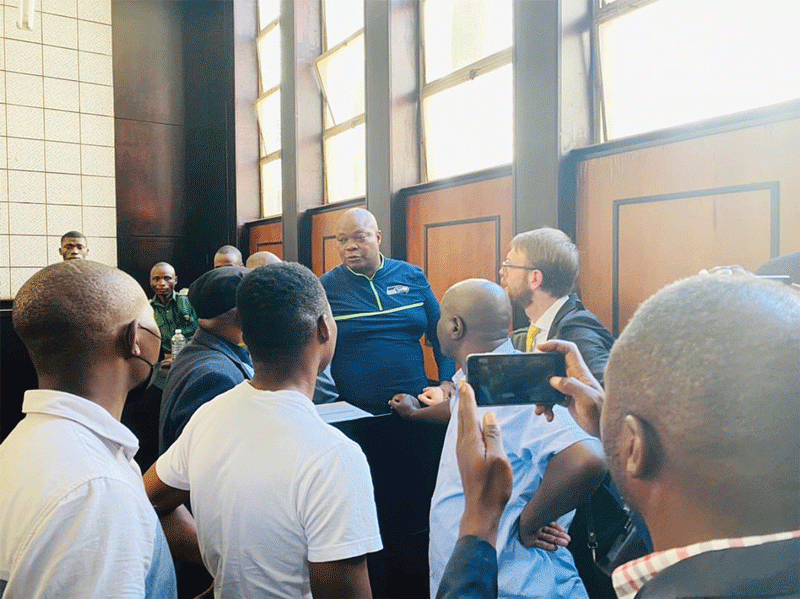 A state witness in a case in which Zengeza West legislator Job Sikhala and former Chitungwiza mayor Lovemore Maiko face charges of disorderly conduct was exposed in court on Thursday for making contradictory statements.
Sikhala and Maiko are facing charges of disrupting a Zanu PF rally for the then aspiring ward 7 Zengeza West councillor Charamba Mlambo, ahead of the March 2022 by-elections.
Mlambo lost the seat to Maiko who contested the seat on a Citizens Coalition for Change (CCC) ticket
A state witness Shepherd Tawodzera, could not prove that he was stoned by Maiko.
Under cross-examination, Tawodzera, who testified in camera, said Maiko hit him with a stone during the skirmishes on the day.
"The first stones came from the accused's side hitting the police officer who was the most senior (Keffus Kamurai)," Tawodzera said.
"Luckily he had a helmet. That is when the Zanu PF side also started throwing stones in retaliation.
"Maiko and Sikhala ducked behind the truck and the former then stood up and threw a stone that hit me."
Tawodzera said the jacket he was wearing was stained with his blood.
"I then realised that the jacket (white) which I was wearing had been stained with blood, I fell on the ground and became unconscious.
"When I gained my consciousness I was in a vehicle at the police (St Mary's Police Station,"
But Maiko's lawyer Lazarus Mbereko said: "When Mlambo testified, he said later on it was discovered that there was a case of mistaken identity.
"Mlambo positively said it was not the first accused (Maiko).
"Were you examined and do you have anything to show that? Where is the stained jacket?"
Tawodzera told court that Mlambo was perhaps trying to reconcile with Maiko since they were neighbours.
Tawodzera initially said that he could not get a medical report saying he sought medical attention at a private clinic.
"I did not get a medical affidavit and I threw the jacket away because it was worn out," he claimed.
Another state witness, Zanu PF secretary for security Pardon Chitembwe had told the court before that Sikhala was the one who threw the stone that hit Tawodzera.
Tawodzera could not clearly explain how he reported the matter to the police.
"Someone reported the case on my behalf," he said.
"I just went to sign because I had gone back home to take my identity card."
Mbereko said: "In your statement you said you went to the police and reported the case. So is this to say the statement is not yours?"
Tawodzera then made a U-turn and said: "What I can safely say is that the statement was not taken at the police.
"Law and order came home and asked me."
The case was moved to Tuesday for continuation of trial.
Related Topics