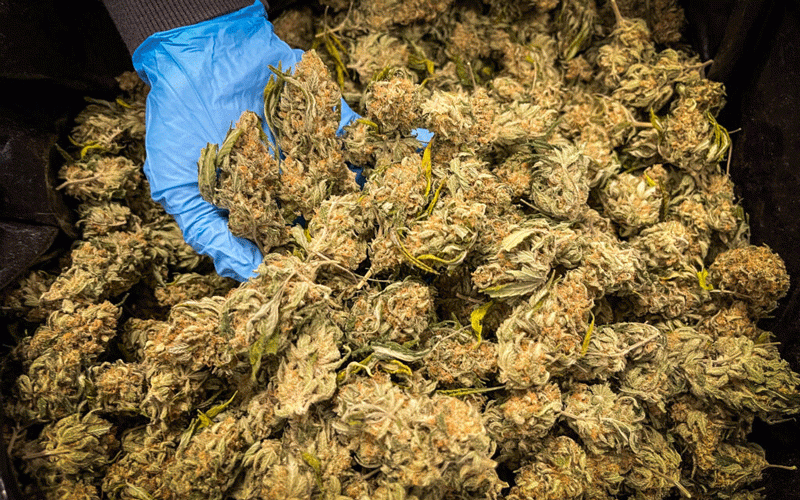 A PUNGENT smell filled the tiny Marondera courtroom as the State paraded an exhibit which landed Kudakwashe Jarasi (39), a farmer in Macheke, in the dock.
The exhibit was 88 plants, measuring an average of 1,5 metres in length each, which happened to be marijuana Jarasi was reportedly cultivating at his plot.
Jarasi's neighbour and fellow farmer, Surprise Chitate, was jointly accused in committing offence.
Police details recovered loads of dried marijuana or mbanje in Chitate's scotchcart as well as thriving plants in his maize field.
Chitate did not waste the court's time by pleading guilty to the charges and was sentenced to two years in prison.
However, in one of the most intriguing legal cases at Marondera Magistrates Court, Jarasi, through his lawyer Mugove Mazanhi, denied that the plants were marijuana.
"Your worship, these plants are not dagga or marijuana, they could be potatoes or lantana camara plants. There is no forensic evidence from the police officers that these plants are, indeed, that of marijuana," Mazanhi argued.
The argument won Jarasi freedom after he was acquitted by magistrate Esther Mabika. Speaking outside the court, Mazanhi said his client was not guilty of the offence.
"Apart from the fact that there was no forensic evidence on whether the plants are marijuana or not, I argued that my client is not the one who lives at the farm," he said.
"He hires labourers and some of them smoke dagga (marijuana) and drop their seeds in the field, or it could be his mother or wife. There was no case at all."
According to the judgment, there was no tangible evidence linking Jarasi to the offence.
"As in the accused defence, the plants could be anything else and they could have been planted by anyone," the judgment reads.
"There is not enough evidence to confine the aspect of the cultivation to the accused alone. And this, therefore, invokes enough desirable doubt in the purview of the court and whenever such doubt is created, the very doubt falls in favour of the accused.
"The court thereby finds the accused not guilty and, therefore, acquitted."
The arrest of the two farmers went viral on social media in the Mashonaland East province, with people hailing police officers for a job well done as the nation grapples with fighting drug and substance use by youths.
According to court papers, on March 28, at around 9am, Macheke police besieged Mt Pleasant Farm, where both Jarasi and Chitate own plots.
They had received a tip-off that the duo had thriving marijuana crops in their maize fields.
The law enforcers recovered six plants in a maize field at Chitate's plot.
After further searches, police found more plants in the garden before discovering already harvested plants in a scotchcart.
Police proceeded to Jarasi's plot, where they seized 82 plants in the maize field and more plants in his garden.
Today, Jarasi is, however, a free man.
Related Topics